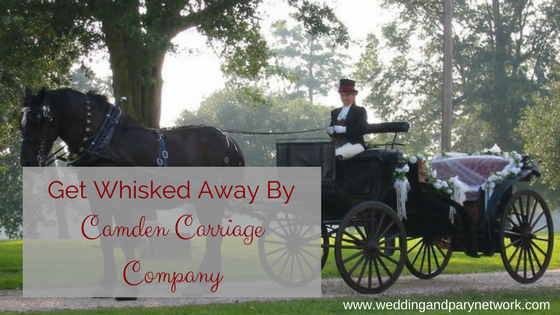 What could be more charming than a horse-drawn carriage ride through the streets of historic Camden, South Carolina, past live oaks, azaleas and those gorgeous mansions?
For nearly two decades, Joy Gensler took out her pony and cart, delighting people with rides through historic streets and creating Camden Carriage Company. Today, her friends Michelle Marble and Danny Davis have taken over the reigns of this business that plays an important role in the city.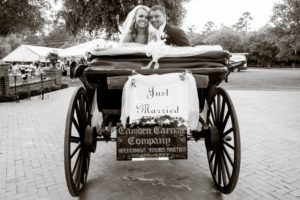 Guides share history and local lore on these tours lasting about 80 minutes. They offer intimate tours for two, but can accommodate groups of 3-6, 7-12, and even 10-16 in a wagon pulled by two horses.
Enjoy riding through this town of about 7,000 that has more than its fair share of antebellum homes. Camden is the oldest inland city and fourth oldest city in the state and has been a summer destination for many northern families who enjoy the respite in the warmer southern climate. Several sites are even listed on the National Register of Historic Places. All of that history and heritage is captured on these tours where you will learn about courting benches, floating porches, the historic firehouse, and double staircases.
Step out of the doors from your wedding into the waiting carriage as it whisks you off to your next destination. You can choose from three carriages and a wagon: the elegant Victoria and Vis-A-Vis, the Surrey or the Wagon; all will come beautifully decorated. You may also pick from a single horse or a team of two black or two white (for the larger carriages). The driver and footman can be donned in traditional Victorian clothing or formal western clothing. For Indian weddings, a white horse with Baraat ceremonial costume is available.
Touring and weddings are the most obvious uses for this unique business, but that's really only a start. Their services can be used for many occasions, including ghost tours, proposals, photo shoots, proms, birthdays, festivals, funerals, wakes and memorial services, corporate events, and more. It can be that added touch that takes your event over the top and makes it a special memory.
Elizabeth, who used Camden Carriage Company for her wedding has this to say:
"Great experience!!!! I had these guys bring me into my reception and it was wonderful. They are very nice and professional. Also very patient! My husband and I were late getting to the reception site because of pictures, but they were very flexible and waited patiently in the hot sun for us. We highly recommend these guys! Thank you for everything!"
Come on out to Camden and experience a horse-drawn ride from Camden Carriage Company!
Looking for other types of specialty transportation? Check out all of our members on Wedding and Party!