In my post Reeling in a Great Bachelor Party, I suggest a fun-filled bachelor party can revolve around a fishing theme. A few suggestions may have been cast here and there, but a real "how to" was not offered.  Here are implementable tips for decorating, food and entertainment to create a fishing theme party.
Decorations Are Like Bait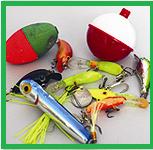 Fishing Lure
Just like a fisherman knows which lure will attract which fish, you need to know what will put your guests in a fishing mood.  A tackle box is a good place to get ideas.  Lures, bobbers, nets, and hooks are all things that dangle and so must your
decorations
.
So this party must incorporate streamers into the decor.  Here is how to make fantastic party streamers using fishing line and bobbers:
Items you will need:
50-100 plastic fishing bobbers. These bobbers come in various colors — red and white are the most common.  Should you need a variety of colors, you can always spray paint them a different color to match your theme.
1 spool of fishing line (you can buy this at the same place as the bobbers)
To make the streamers, begin by determining how much line is needed to space the bobbers apart so they dangle but with enough extra line to attach to the walls or tables. To create a table streamer for a 6 foot table, you will need 7 feet of fishing line. If you want a swag effect with this streamer add another foot or two. Same principal applies if you are hanging these streamers from wall to wall or around a pole.
After you decide line length, take the bobbers and hook them to the line spacing them every 6-8" apart. When finished attach the streamer to the table using heavy duty tape or clear packing tape. Hint: Fishing lures come in many shapes, styles and colors making them a great items to decorate with. So you can do the same thing with fishing lures as the bobbers. However, you need to remove the hooks and barbs from the lures before using them in this fashion.
Party lights are another way to decorate. You can buy fishing theme lights at party supply stores. Attach these lights to some fishing nets and hang them on the walls. Use your imagination, don't be afraid to jump right in and tackle the decorating with any and all fishing related items.
If your having the party outside or if room allows, you can always use a small boat as a table. Place a sheet of painted or decorated (use stencil to decorate) ply board over the boat.
Rig Up Some Great Food And Beverages
Use a "live well" to hold your beverages.  A live well is a tank they hold the bait or the fish after you catch them.
decorations, as well as drink holders and party favors
.
I suggest a menu of catfish, smoked salmon or trout which can be catered by a local company. For "fingerling" food serve shrimp dip and use oyster or goldfish crackers for the dippers. Shrimp cocktail or peel and eat shrimp are great appetizers for a fishing theme.  Your caterer may have some party platters in fish shapes. A party store is another fantastic place to find themed serving platters.
Don't forget the sweets. Have a local bakery create a theme cake in the shape of a fish. This will give them a tasty treat and add to your decor at the same time.
Entertainment – GO Fish
Rent a Playstation or a Wii game console with the fishing game. This game is great for kids and adults. In fact, adults love this game – all the fun and no mess.
Don't want to rent a console. Create your own fishing game. Grab some fishing rods and hook the bait (candy bars tied on with fishing line.) Now have players stand on the opposite side facing the people who are holding the rods. Cast out your bait – just far enough for your teammate to be able to eat the candy bar (no hands can be used). Whoever eats their candy bar first wins. Or can always play a rousing  game of go fish!
Using a bit of creativity along with some real fishing tackle will ensure you and your party will defiantly not be up a creek with out a paddle.
***A little side note for those in the Port Coquitlam, BC – Luscious Creations created the awesome fish face theme cake in the picture above. ***