2017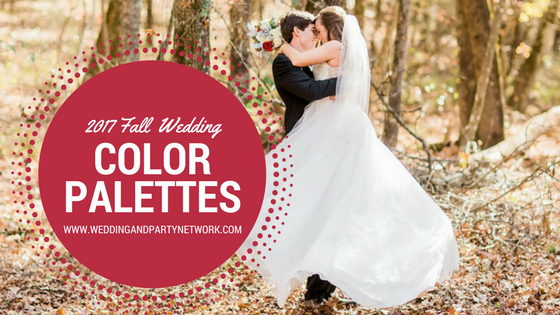 This fall, we expect to see warm colors and earth tones, as well as the jewel tones that have become extremely popular the last few years. You'll find port and navy, as well as a few color surprises that are sure to make a statement.
Classic Fall Palettes
Port and blush paired with an earthy brown is a romantic palette that is warm and inviting.

Mustard and navy are a classic combination that can be represented in a number of ways. A neutral gray helps add a lightness to this pallet, that can also be represented with pretty silver accents.
Navy and port are a regal pair that is hard to get wrong. These jewel tones really shine when paired with gray as an accent color.
Fun Fall Palettes
Pastel colors aren't only for spring. This palette is a combination of a lilac, dusty blue, and terracotta that will add pops of color to your fall wedding while incorporating beautiful fall tones.

Sunset forest is a palette comprised of a firey scarlet, neutral gray, and two brilliant shades of green. This palette would be great for incorporating natural elements into your wedding, while still having a bright color for your focal point.
Help your wedding palette really shine by choosing a venue that will complement your style and decor! It's easy to find a venue on Wedding and Party Network! Just click below.