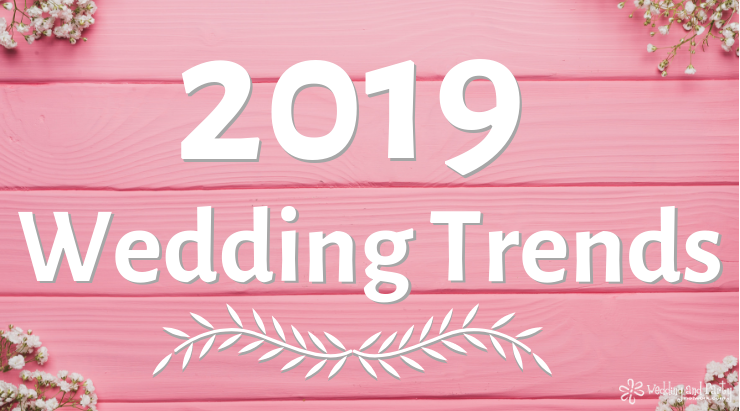 New wedding trends are popping up every year and adding to the bundle of wedding ideas. The classic trends might be more well-known, but you might not know of these new ones. That's why we have a list of this year's top wedding trends. Maybe you'll find one you can incorporate in your wedding planning!
---
1. Dark and Edgy Color Palettes
Weddings are taking an edgy twist – and we love it! Get adventurous with your wedding color choices and think about mixing colors that usually wouldn't go together.
2. Good Ole Classics
With edgier weddings on the rise, there's still plenty of people going back to traditional designs. Elegant dinners, ballroom wedding receptions, and lace overlays will be making their statements as timeless traditions.
3. Statement Wedding Cakes
This trend is continuing from last year, and we're here for it. Not only does this include a huge focal wedding cake, but this also includes extravagant dessert displays with a variety of delicious treats. Go big or go home!
4. Round Ceremony Seating
Forget about the usual ceremony seating. Go the non-traditional route and think about arranging the seating in-the-round. This is a great way to add a personal touch to your wedding. Get creative, switch it up and make it your own!
5. Balloon Walls
Say goodbye to flower walls and hello to balloon walls. These aren't just for kids – they make colorful and creative decor for any occasion. The days of the balloon arch are long gone. Now, prepare to see beautiful displays, selfie stations, and innovative food set-ups.
6. Nontraditional Florals
Flowers have remained a staple for weddings and will continue to be. But why not switch it up with some unusual floral choices? Replace the typical blooms for pampas grass, wheat, and any other unique flowers. Create a different vibe by decorating archways, furniture, and even the ceiling. You'll love the elevated feel it gives the atmosphere!
7. Personalized Place Settings
For those opting for a smaller wedding, consider personalizing your place settings. Forget generic place cards; write hand-written notes for your guests instead. Your guests will enjoy this sentiment, and you'll have fun writing them.
8. Bringing the Inside Out
Outdoor weddings are all the rage, but that doesn't mean you have to compromise on comfort to have one. Bring the outside in and give the outdoors an extravagant feel with dining and living room furniture. These typical indoor pieces will be a nice touch to your big day.
9. Minimalist Designs
You've heard the term less is more, and it applies to wedding decor too. The key for a minimalist wedding is to keep your color palette to three or fewer colors and gravitate towards clean lines. Try to incorporate natural elements such as wood tones, marble, and stone.
10. Statement Lighting
Take your thought process beyond the traditional choices. String lights have seen their day…now it's time for some serious statement lighting. The more creative you can be, the better. Think about finding inspiration in places you usually wouldn't look!
---
Feeling inspired? Let our vendors help you create the perfect wedding experience.