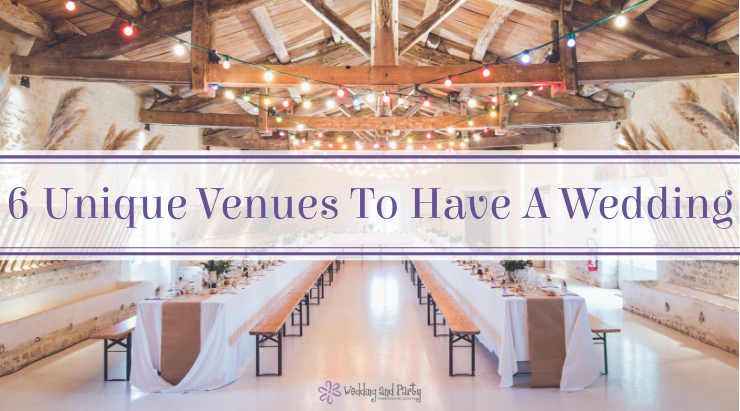 Wedding season is just around the corner, which means it's time to start planning! The most critical decision to make is where to have the wedding. There are so many places to choose from nowadays that it can be overwhelming. So many places have been used time and time again, that maybe you're looking for something a little more special. That's why we have compiled this list of six unique venues to host your wedding.
---
Thirty minutes from Seattle, this beautiful venue is located in a gorgeous forest surrounded by nature. The Treehouse offers overnight accommodations and a once-in-a-lifetime experience for you and your wedding party of up to 18 guests. You will also get the entire four-acre forest to yourself for your event for up to 22 hours. This location is world-renowned for a reason because it's filled with lots of luscious greenery and a collection of treehouses.
If you want a venue that will take your breath away, then this is the one for you. Get married in the hills of Malibu, surrounded by beauty. This location offers an excellent 360-degree view on the Santa Monica Mountains. For your reception, they have elegant long tables positioned next to the pool…it can't get any better than this! With a view as gorgeous as this, you'll feel like you're in the clouds.
Found in Phoenix, AR, this location is the coolest place around. This historic venue offers a grand experience in an icehouse from the 1920s. You'll have a rare and unique experience getting married around the industrial aesthetic this place provides. With a dedication to the arts and cultural development, you and your guests are sure to have the time of your lives.
If you've ever been to Thornecrown Chapel, then you know this place is unforgettable. The venue has beautiful glass windows covering 6,000 square-feet (that's 425 windows). While the windows might be huge and extravagant, inside the chapel has a very quaint and cozy feel. Surrounded by nature, the complex is forty-eight feet tall and a one-of-a-kind wooden structure. Tie the know in this magnificent location; you won't regret it!
This place is known as one of the most distinct wedding locations in New Orleans and for a reason. Race & Religious can host up to 300 guests and offers an indoor-outdoor space that includes two masonry homes from the 1830s. This is the kind of NOLA charm you'll want in the background while you say "I do." Located on the riverfront of the Lower Garden District, the vibrant, romantic atmosphere is the perfect setting for your wedding.
Here you'll be among ancient ruins that leave you in awe. This is a real storybook setting and a significant change of pace from traditional weddings. Get married around this beautiful view in the heart of Georgia! Offering 3,000 acres of stunning event space, and a 5,000 square-foot ballroom fit for wedding receptions, all your wedding needs, and wants can be met here at The Ruins!
---
For any other wedding planning help, check out our directory of vendors at a location near you.