Every girl dreams of the perfect engagement ring. There are so many wonderful designs and styles to choose from; there is something for every bride! Curious about the next new trends? We have plenty of popular engagement rings for you to browse through. Find the perfect style for you and start shopping!
---
Colored Accents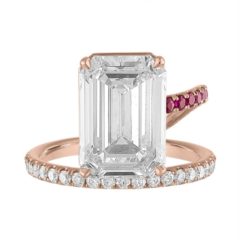 Stephanie Gottlieb – Half Engagement Ring in Rose Gold with Diamonds and Rubies
Color is a great way to get your ring to pop! Using color as an accent is a unique detail and will make your diamond stand out even more.
Pear-Shaped Stones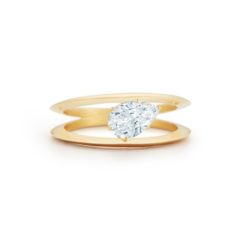 Jade Trau – Sadie Solitare Ring in Yellow Gold with a .60ct Pear Shape Diamond
Pear-shaped stones are in this year and are a beautiful spin on the traditional engagement ring. Angling the stone, as pictured above, creates a simple, yet elegant design.
Half-Moon Diamond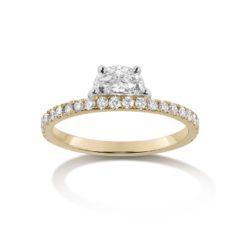 Selin Kent – Helia Pave Ring in 14k Yellow Gold with a .36ct Half Moon Diamond
We've seen many shapes used for stones throughout the years, but this shape is like a breath of fresh air. With the straight edge on the bottom, this style is great for stacking!
Micro-Pave Settings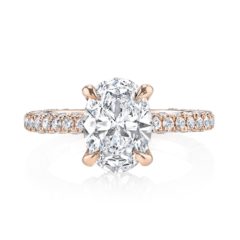 Lizzie Mandler – Three Row Pave Setting in 18k Rose Gold with 1.5ct Oval Diamond
Micro-Pave features several small diamonds that give the ring an antique look. For those brides that want as many diamonds as possible, this is the ring for you.
Antique Rings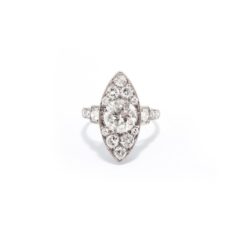 Ashley Zhang – Old European Navette Ring in Platinum with a 1.75ct Cut Diamond
Bring a bit of history into your dream wedding ring. An old-fashioned design is perfect for an old soul wanting intricate details and accents that are truly one of a kind.
Natural Metals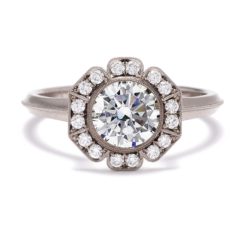 Erika Winters – Caroline Ring in 18k Natural White Gold with a 1.01ct Diamond
Natural designs are being seen all over the fashion world, and engagement rings are no exception. Your ring will stand out with the subtle, yet gorgeous natural beauty of this metal.
Double Bands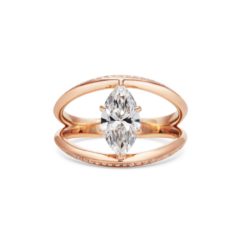 Rachel Boston – Bespoke Ring in Rose Gold with Pave Detail
Frame your center stone with two bands to add a twist on any classic design. This ring style can be accompanied by details and accents of your choice.
Oval Stones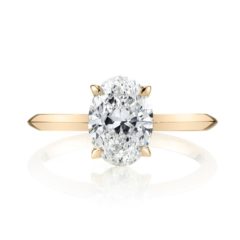 Lizzie Mandler – Knife Edge Solitaire in 18k Yellow Gold with a 1.86ct White Diamond
This trend is not going anywhere because of its beauty and elegance. The oval cut gives the stone an elongated look, appearing longer than it is, which is why it's in high demand.
Unusual Diamonds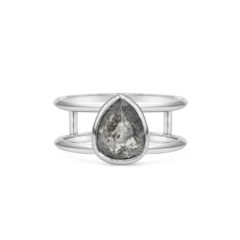 Rachel Boston – Bespoke Ring in Platinum with a Gray Diamond
While some brides prefer a classic design, this one is for the more adventurous. Distinct cuts, such as shields, trillions, and imperfect stones are rare and exceptional styles.
Unique Center Stones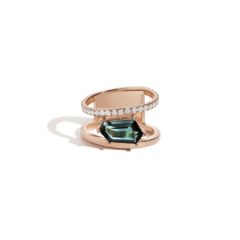 Selin Kent – Asymmetrical Tourmaline Ring in 18k Rose Gold with a 3.5ct Tourmaline
While many have not chosen this route, you can have an engagement ring without a center diamond. There are many other precious stones in several colors that are just as beautiful as a diamond!
Take your pick from any of these engagement rings styles and designs. Each one offers a gorgeous look that any bride will be happy to show off! Let us know in the comments which one you like the most.
---
Ready to find your dream wedding ring? Contact a vendor near you!