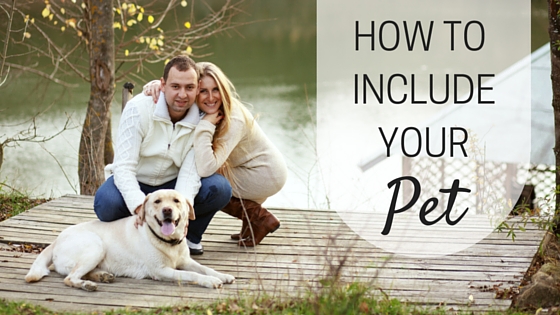 Share the love with furry friends!
Let's face it: for any animal lover, having a pet be part of your special day is a unique and fun way to show others just how much your furry friend means to you. Bringing a cat or dog into the wedding party is easier than you think!
You've just gotten engaged and it's time to kick off the wedding planning. The the engagement announcement photos come first. Why not take a different approach and step out of the main photo completely? Let your adorable pooch be the subject with a chalkboard sign that says, "My humans are getting married!" For other photos, try placing your ring on the dog's nose, or even hang it from a collar! Are you a cat person instead? Place your left hand on top of your future husband's to show off your ring, and add your kitty's paw on top of your own hand to show what a fun loving family you'll be.
The day of the wedding is the time to have the most fun with your pet. Put your dog on a leash and fit him with a handsome tuxedo vest for a walk down the aisle with your ring bearer. Watch the video below for a cute example of this. You can even hook the rings on his collar for an extra special touch! If you own a trained pet bird, wow your guests with your feathered pal flying the rings down the aisle.
Don't forget about the photo possibilities before the wedding ceremony too. It's the perfect time to grab your cat as she inspects your bouquet or dress for an adorable photo. Then when it's time for cake, treat your furry friend to a small slice of his own for a perfect photo moment of him licking icing from his nose.
Pets are just as much part of the family as humans, so bringing them into your celebration of love makes complete sense. Get creative and show your dog or cat you will always have a special place in your heart for them!