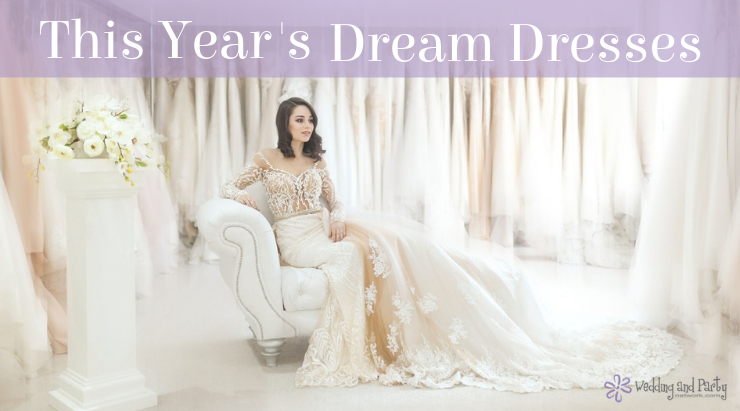 Designers from all over the world are showcasing new designs and fresh remixes to give this year's brides plenty of fabulous options to choose from. Whether you prefer minimalism or high-fashion, there is a style for you. Full of glamorous embellishments and beautiful details, these wedding dresses are sure to impress any bride.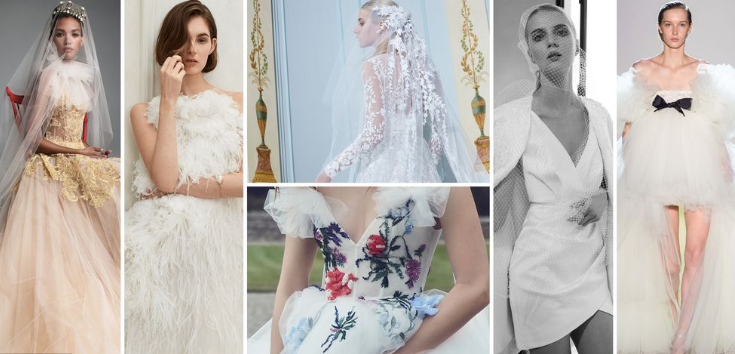 (Photo courtesy of www.harpersbazaar.com)
From left: Vera Wang Bride; Oscar de la Renta Bridal; Elie Saab Bridal Fall 2019 (top); Monique Lhuillier Bridal Fall 2019; Elie Saab Bridal; Giambattista Valli Haute Couture Fall 2019
---
From Old to New
Some classic styles have made their way back to the front of the fashion world. Modern takes on ruffles, puff sleeves and high-necklines can be found on the runway. The Victorian era has inspired quite of few of these looks, giving modest brides great new options that will have them looking runway ready.
Feathers Galore
You'll be blown away at this next trend—fancy feathers! Add a touch here and there or cover the whole dress with them, either way, you'll be rocking your wedding day. This year is all about the drama and making a statement with fashion choices. While some prefer simpler looks, this style is for the ones who want to turn it up a notch.
Sheer Satins
Satins and chiffons are universal fabrics, but 2019 is taking them to new heights. Reflective, sheer designs and chrome colors are all the rage; you'll find beautiful beading and sequin embellishments coming down the aisle. If you really want to shine on your big day, a glorious sheer satin dress might be just what you need.
Statement Capes
We're not talking about superheroes, even though you might feel like one wearing one of these. We're talking about an innovative addition to your wedding dress. All kinds of capes from embroidered, sheer, or ruffled can be worn at any length you desire. Elevate your look with a stylish wedding cape and stun your guests with this great ensemble.
Marvelous Minimalism
Sometimes less is more, and for our minimalistic brides, this trend is the one for you. There's beauty in simplicity, and with a minimalist design, your natural beauty will be the focal point. Clean lines, contemporary cutouts, and flattering silhouettes will adorn this year's wedding dresses.
The Perfect Veil
The bigger, the better! This take on a traditional staple has taken a unique twist. Embrace your big moment walking down the aisle with a hard-to-miss, embroidered lace veil. This is no longer an accent piece, it's the main attraction. Complete your look with this over-the-top take on a classic wedding veil.
Florals for Days
You might be thinking florals have no place in bridal fashion, but boy are we here to prove you wrong. Florals belong here, whether it's a hand-cut design, a bold accent of color, or intricately embellished, flowers have made it to the runway on none other than wedding gowns. Forget subtlety and bring us the drama!
High Hemlines
It's time to show off some skin; let your legs speak for themselves! This year's wedding dress designs have seen a new take on the high-low hemline, such as confection-like tulle, short hemlines with long trains, and statement fabrics. Perfect for the bride wanting to turn some heads on her big day.
---
Find the right dress for you with one of our vendors!