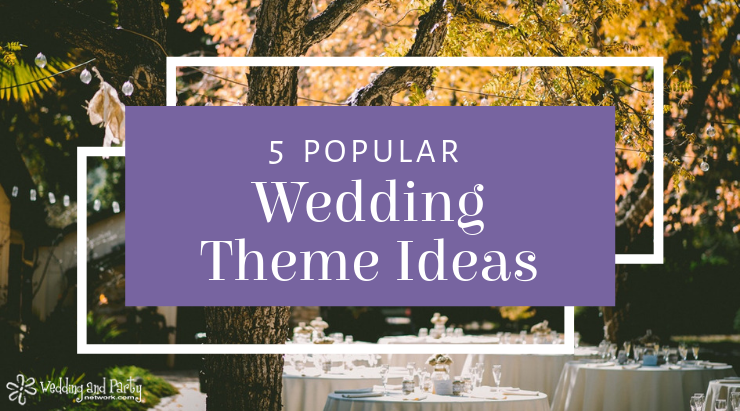 Wedding themes have grown in popularity and are a great way to nail down your selections for decorations, floral arrangements, etc. A theme can seamlessly flow throughout your event and can be as simple or detailed as you would like. If you're having trouble deciding on which one is right for you, then take a look at our suggestions for inspiration!
---
1. Vintage
The 20s – The Roaring 20s was a great time to be alive. Jazz music and the iconic flapper style were hot topics. Fill the occasion with Art Deco-inspired designs and colors. Cover the tabletops with vintage materials and table settings.
The 50s – The 50s is often considered the modern Golden Era. These were the days where the American Dream was as strong as ever. Reimagine this wonderful time with billowy skirts, bold colors, and simple textures.
2. Movie-Inspired
Great Gatsby – Centered around the glory of the 1920s, this is a memorable theme. Enjoy the glitz and glamour of high-society with over-the-top decorations, gorgeous gowns, and extravagant bling.
Harry Potter – Of all the fan bases in history, Harry Potter fans have a deep-seated passion for these books and movies. Incorporate tall candles, and seating decorated like each of the four houses. Even non-believers will have the time of their lives!
3. Boho Chic
Country Rustic – You'll have to tap into your southern roots for this one. Put on your cowboy boots and blare the country music! This theme is perfect for a traditional wedding gown and a casual denim jacket. Consider hosting your reception in a beautiful barn for an added touch.
Winery – You might not live in wine country, but that doesn't mean you can't bring those elements to your big day. Have a happy wedding in a natural setting surrounding by beauty and peace and quiet. Capture this theme with light and breezy fabrics, natural textures, and simple patterns.
4. Famous Location
Las Vegas – Las Vegas is easily one of the most iconic cities in the United States. Using this as your theme will guarantee it'll be a night to remember. Gamble the night away and make it a black-tie event.
Paris – Also known as The City of Light and Love, this place is full of rich culture, history, and art. Wine and champagne are mandatory, as well as bright and classy decorations. Have a ball and enjoy the night with your loved ones.
5. Fairy-Tale
Disney – Disney films have had a huge influence on our definition of a fairy-tale. Take your pick on which movie to use as your inspiration; there's plenty of iconic princesses and marriages to choose from.
Mermaid – If you were one of those girls that dreamed about being a mermaid when you were younger, don't give up on the dream now! This is a great excuse to wear a mermaid cut dress and incorporate fun colors into your decorations.
---
Found the perfect wedding theme and ready to start planning? Check out our directory for all your wedding needs!