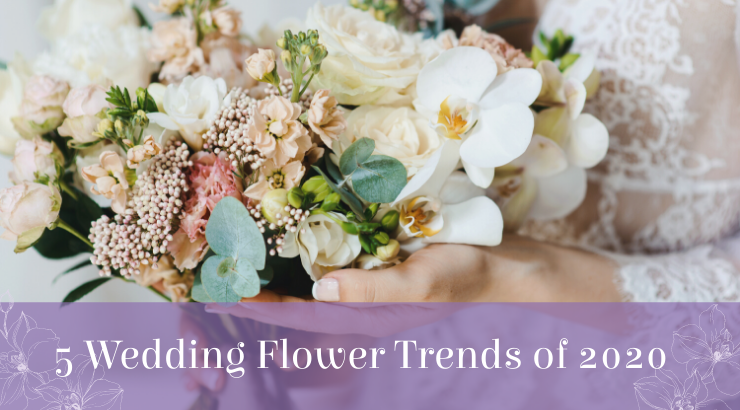 Floral arrangements are often the centerpiece of the decor at weddings. They help set the tone by bringing color, vibrancy, and a touch of earthiness. Given that wedding flowers are often a large part of your budget, it's important to find a style of arrangements that you love and best suits your wedding day vision.  2020 is an exciting time in the wedding floral industry as established trends are blooming. Here is a list of 5 of our favorite 2020 wedding flower trends. 

---
Dried flowers:
This versatile trend is sweeping the wedding industry. While less colorful than the traditional fresh flower arrangements. Dried flowers compliment a variety of wedding styles. From vintage to boho, to contemporary dried flowers are add a beautiful touch of personality to any wedding. Since these low maintenance floral arrangements are already dried and preserved, they make for stunning hanging arrangements and can often be kept as keepsakes after the event is over. 
Tropicals
: 
On the opposite end of the spectrum from dried flowers, lush, bold tropical flowers are also on the rise for 2020. Flowers such as king protea flowers and orchids make a stunning statement in any bridal bouquet. Though tropical flowers are vibrant and unique, they aren't the only ones in the spotlight for this trend. Lush tropical foliage such as palms, monstera, and banana leaves make excellent centerpieces for weddings. Tropical leaf bouquets are also a great way to be unique with your wedding day arrangements.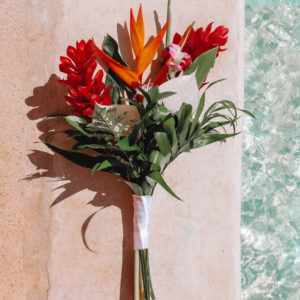 Monochromatic tones: 
Using different hues of the same color has become quite popular amongst couples in the past year. Various shades of blues, reds, or greens make for a beautiful assortment of color while staying true to the original color palette.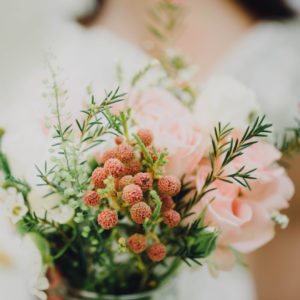 Natural and sustainable:
This year we are seeing brides take a step from the traditional fill of flowers and step towards more natural and sustainable options instead. The wedding world is seeing much more greenery this year, such as silver dollar eucalyptus, dusty millers, and even greenery photo booth walls. Not only is greenery cheaper than florals, but it is an excellent option for being eco-conscious.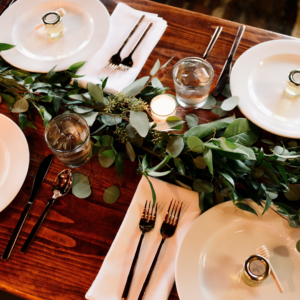 Sun Palms: 
Sun palms are trending heavily in the wedding industry at the moment. Coming in just about any color you can imagine, sun palms make beautiful additions to any floral arrangement. Sun palms help tie together both tropical and bohemian looks and let you be creative with your floral bouquets. 
---
Find a Wedding Florist!