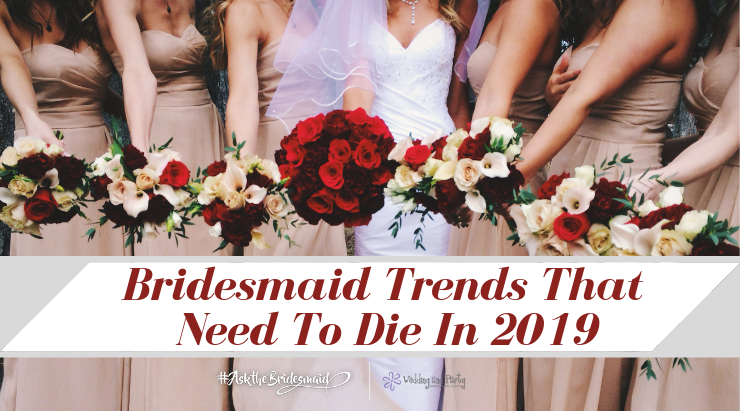 Engagement season is upon us and has many couples getting ready to start planning their wedding. While many trends have become classic staples, some trends are just downright overused. 2018 is soon coming to a close, and to start this new year here are a few bridesmaid trends that have got to go.
Huge Bridal Parties
When you are deciding how many bridesmaids to have at your wedding, there are some things to consider. The more bridesmaids, the higher the cost, and the more opinions you'll be dealing with. Plus, trying to coordinate several different schedules can be very difficult. Instead of having a huge bridal party, think about putting some of your loved ones in other dedicated roles such as ushers and guestbook attendants.
Overdramatic Bridal Entrances
Over dramatic bridal entrances are becoming a thing of the past. Riding in on a horse or being carried in have been a couple of popular ideas and quite head turners, but what happens if you fall or get thrown off? You risk ruining your dress, being embarrassed in front of your friends and family, and even getting hurt. Why not get creative instead? Have a silhouette entrance with a projection screen or have your DJ announce your entry sporting-event style.
Over-the-Top Bridesmaid Dresses
When the wedding day comes, everyone will be looking at the bride and what she's wearing. The last thing a bride will want is to be overshadowed by her bridesmaids. When you're choosing the dresses your bridesmaids will wear, keep that in mind. Simple, clean looks are never a bad choice. You want them to look good too, but this day is all about you.
Sticking to Traditions
Weddings are full of traditions, and while some are worth hanging on to, consider changing it up with your bridal party. Why not have your bridesmaids wear different style's and colors? Maybe even in an outfit other than a dress, like an elegant pantsuit or jumpsuit. There's no reason you can't think out the box, so break out of the same old traditions and enjoy your day the way you want it.
Let's let these stay in the past where they belong. Don't get caught up in these overused trends, be unique and create the perfect day for you.
Getting ready to begin planning your big day?