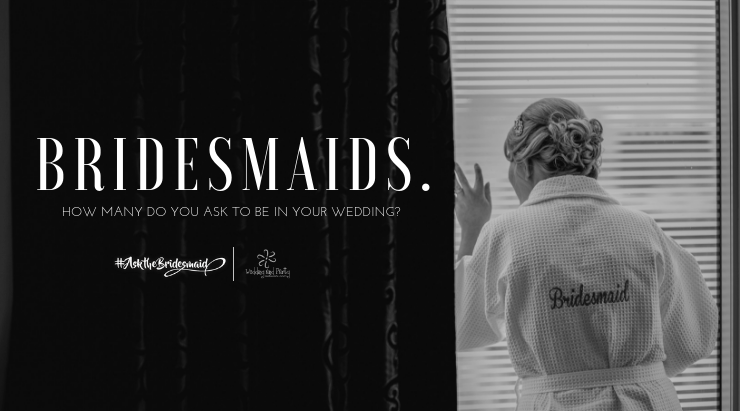 We are in the middle of engagement season, and while you may be a recently engaged bride-to-be or you have been engaged for a long time, you are probably already thinking of people who will stand by your side on the big day. Some of you probably already have a list in your notes app that you have been adding to or taking away since college. But, how many people should you have at your wedding? Are they the right fit? Do you sisters-in-law need all those bridesmaids? Well, we have some answers for you!
What are bridesmaids anyways?
You might think this is a dumb question. Obviously, bridesmaids are your best friends, cousins, sisters, or soon-to-be sisters-in-law. However, you might find it interesting that during ancient Roman days, bridesmaids had to be at weddings by law.  At each wedding, it was required that there be ten witnesses at the wedding: five bridesmaids for the bride and five groomsmen for the groom. The purpose of these witnesses was not just to see that the couple got married, but they were also meant to distract the pesky spirits that could bring terrible luck to the couple. Even if the bridesmaid's hair was slightly different from the bride's, it would be considered doom for the couple. Can you imagine the pressure!?
In modern society, bridesmaids are there for moral support and encouragement. They're there to be a shoulder to cry on, a person to vent to when things go wrong, and someone to make the bride feel like she's making the right decision.
How many bridesmaids should you have?
In the early years of weddings, the number of bridesmaids that you had sometimes had to do with your family's social status. The more money your family had, the more bridesmaids you had. However, in modern times this has changed to the bride's choosing. In recent years, it has ranged anywhere from 3 to 5 bridesmaids, but with the influence of social media and not wanting to offend anyone, the number of bridesmaids are increasing.
Things to keep in mind…
Do you really care if they were in your wedding years from now?
Some people will be in your life for a moment and those who will be there forever. The people you choose to be your bridesmaids need to be the people you believe will be there for you no matter what. You don't want to have a fallout with a bridesmaid years later and then have to see her in the pictures.
Can they afford to be a bridesmaid?
This is actually a really great question to consider. In today's society, the cost of weddings and being a bridesmaid has gone up exponentially. This means that you will need to see if someone can afford being a bridesmaid. Figure what it might cost for someone to be your bridesmaid. From the dress, hair, makeup, the bachelorette party, lingerie party, bridal showers, to any other events you might have that they will have to attend, you will need to consider these expenses. This is great for you too because you can see what you can add to your budget to help them with the cost. Yes, it is an honor for them to be in your wedding, but you don't want to be known as an unreasonable bride to work with.
Aesthetics does not mean practical.
All thanks to social media, many brides are adding more and more bridesmaids to their line because it looks great aesthetically. Sadly, this can bring more headaches to the wedding than actual relief. If you think adding more bridesmaids to your line is a good thing because it looks good then you might want to rethink that.
Do you have to ask the family members?
If you have sisters, cousins, soon-to-be sisters-in-laws, or cousins or sisters your fiance is close to, then you may feel the pressure to have them at the wedding. The answer to this question is simple: no. You don't have to have them in the bridal line. Now, you may face some criticism later, but remember this is your day.
So what do you do for people you don't ask, but feel bad about not asking them?
There are so many different parts of a wedding that need help with besides just being a bridesmaid and wlaking down the aisle. You can always assign your friends to be honorary bridesmaids, sign in people with the guest book, hand out the send off tool, help with the reception, and so much more.
Finding the right people to stand by your side on your big day can seem stressful, but if you take these tips to heart you will have no problem finding the right people!
Ready to start planning your wedding?