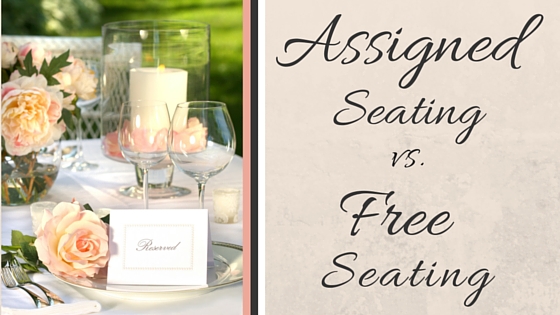 One of the most arduous tasks in planning your wedding just might be where your guests will sit at the reception. As mundane as that might seem, it's an important aspect that deserves some attention. When your guests show up, they will need to know where to sit. The questions is: "How do I want this to happen?"  How guests are seated set the tone: an assigned seat implies a more formal setting while free seating indicates a more relaxed atmosphere. Guests may chime in with their preferences, but ultimately it's up to you to decide.
Pros:
Everyone knows where they will sit. This avoids that awkward "first day of school in the cafeteria and I have no idea what to do now" feeling that people can get. Even the most social guests sometimes like these types of decisions made for them. More introverted types find security in that little card where they can find their spot without having to ask people at other tables if that seat is taken.
It's organized. The catering staff knows where the guests are that have food allergies. People don't have to mill around waiting for things to settle down before scouting a seat. People without dates don't feel like the dreaded third wheel when they try to sit at a table with an even number. Everyone knows what to expect.
No more gaps. With carefully assigned seating, you don't have one table with a single opening and other with five. You also don't have that party of five trying to sit together who can only find single seats. Everything is nice and even.
Cons:
The actual task itself. You've planned what to serve at the reception, where the flower arrangements will go, the exact shade of pink you want to use. Do you really want to tell Aunt Betty and your friend from work where to sit, too? It requires work, even more work than you've already put into it. A definite consideration when all that planning starts to add up.
The venue just doesn't lend itself to assigned seating. The layout of the tables is awkward, or they are rectangles and not the circles you had hoped for. Sometimes the venue isn't ideal for those assigned seats. Or, you want a cozier atmosphere than assigned seating tends to have.
Odd groups. Most tables can be neatly comprised of work friends, college buddies who all still know each other, and family members who will want to be grouped together. But when you are mixing two sets of everything, it's nearly impossible for the arrangements to be perfectly neat. You will be short a college friend, or have an abundance of family members. Enter the odd table where the leftovers of every group will likely end up. No one wants to feel like they don't already fit into a group and they will know if they are thrown together with other misfits.
All in all, it's up to the bride and groom how they want they guest seating to turn out. Either way is fine; it's really a matter of preference. Just make sure you've considered the pros and cons and make a decision from there. For more tips, check out the Wedding and Party Blog!