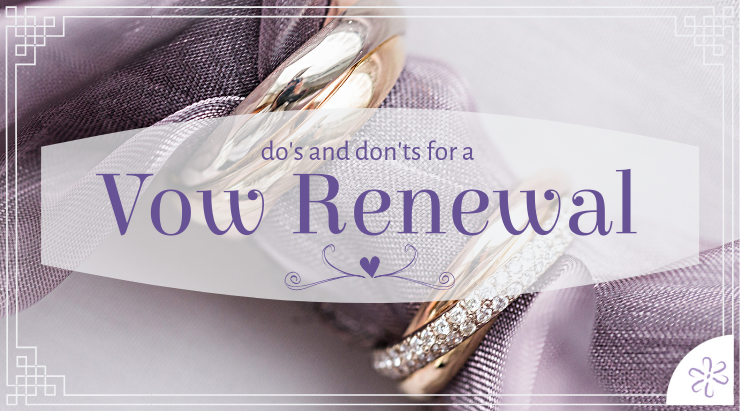 A vow renewal is a perfect opportunity for couples to express a deepened love, a developed relationship, or even just to celebrate years of dedication. No matter the reason, every vow renewal is special. There's no right or wrong way to do a renewal, but here are some suggestions on what to do and what not to do at your ceremony.
Do's
Keep it Exclusive– When it comes to renewing your wedding vows, you might want to keep your guest list limited. Instead of inviting every person that you and your spouse are friends with, consider just inviting your close friends and family that have more of a personal relationship with you. This will make the ceremony so much more intimate and special. So don't be afraid to draw the line on who is and isn't invited, because once you start making a few exceptions, it'll be hard to stop.
Cinematic Video– Since the ceremony is going to be small, provide a way to share the special occasion with those who aren't in attendance by hiring someone to create cinematic moments. Photographs are special, but a cinematic video will help convey all of the emotions and make anyone who watches it feel like they are part of the experience.
Write Your Own Vows– Discard the traditional wedding vows and write your own! Although traditional wedding vows are meaningful, they are more fitting for the beginning of your marriage. By writing your own, you'll be able to have the vows correlate with the reason that you chose to have the renewal. For instance, if you're renewing your vows after a significant number of years, the vows could be based on all the years you and your spouse have spent together. Or if you're renewing them after a difficult time of marriage, your vows could include your perseverance through the obstacles.
Don'ts
Gifts– A vow renewal is not the time to ask for gifts, and guests should not feel obligated to bring one. A wedding registry is typically for helping a couple set up their new home together by buying them household items and anything else that someone sees convenient for the start of the couple's marriage. Although some people might insist that you accept their gift, don't open any gifts in front of the other guests because then they might feel as if they were supposed to bring one.
Bachelor/Bachelorette Party– The point of a bachelor/bachelorette party is to honor the end of your single life as you get ready to enter into marriage, like an initiation. Since you're already married, it's irrelevant to have one. Instead of a big party, enjoy a nice, casual night out before the renewal. Try to avoid the "initiation into marriage" vibe though. Keep it all to a minimum and enjoy your night out.
Grand Entrance– A father is known to walk a bride down the aisle to symbolize him giving his daughter away, so since he's already given you away at your original wedding, there's no need to do it again. In fact, you could completely get rid of the grand entrance down the aisle. Instead, walk in at the same time as your significant other from opposite ends of the room and meet up with each other at the altar. However, if you are wanting to keep the grand entrance, you could have your children walk with you, if you have any, or just walk down with your spouse.
Overall, enjoy your vow renewal and do what makes YOU happy. Check out our directory of vendors to help create the best possible ceremony.