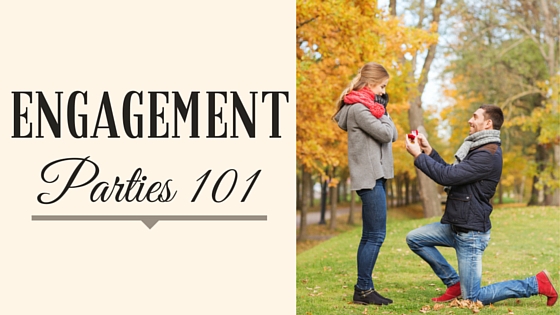 Hosting an engagement party can be a rewarding experience. Most happy couples are thrilled and ready to celebrate! This is not simply a bridal shower, but a party that announces their future life together. Invitations, decorations, food, the venue, and entertainment must be considered in your planning.
The Details
The couple of honor needs to first provide a guest list. Find out what type of party would they enjoy. Use them as a springboard for ideas when considering the theme, size, and formality of the event. Food may be casual or formal, dictated by the theme and the budget. Flowers add beauty and depth to any room, and depending on a color scheme or particular season, will help accentuate any area.
The Activities
Certain activities lend themselves to any type of engagement party, such as providing a place where guests may sign in a guest book or a framed photograph of the couple. It is nice to create a special way to leave advice or thoughts in a jar or suitable container for the couple to read at a later time. Invitations, napkins, cookies, cakes, and banners or signs can all be created with your particular theme in mind. Plan games or an activity such as a wedding ring toss or a quiz about the future bride and groom.
Introduce the couple at the party and let them share their engagement story or have someone talk about how they met. Don't forget a DJ or music for dancing, and provide slips of paper where guests can write down song requests for the future wedding reception. Provide guests with a "save the date" party favor that they can take with them as a reminder.
The Theme
Choose a theme that reflects the couple's relationship and personalities.
Love is in the Air – Use hearts, hot air balloons or airplanes as your inspiration. "Fly Away With Me" can be written on a chalkboard at the entrance to the party or printed on napkins, cookies or a decorative cake.
Garden Party – Use string lights among plants or trees to set the outdoor mood. Casual food such as barbecue would be appropriate to serve. Wildflowers, gingham and Mason jar candles would be easy to incorporate with this theme.
Wine Tasting – Use silver trays, more formal decor, and provide a variety of wines for guests to taste. Food might be as simple as cheese, fruit and other appetizers. Hire a sommelier to move about the guests and provide tips on tasting wine. A wine bottle can be signed instead of a guest book and given to the couple to enjoy on a future anniversary date.
Two Fish in the Sea – Choose an ocean or nautical theme and decorate accordingly using shells and sea blue and green colors. Write "A Good Catch" on a banner or sign with pictures of the couple together.
A Dream Come True – Use a fairy tale theme to help the couple tell their engagement story. Create a "Once Upon a Time" banner to hang on a wall or in a photo booth for guests to enjoy. Incorporate "Happily Ever After" or other such quotes from love stories or movies to reinforce the theme.
No matter which theme you choose, planning a party that considers the wishes of the newly engaged couple will go a long way to ensure that your event will be a complete success!
If you are looking for vendors for the party, visit our Wedding & Party Network Directory to find local vendors that fit your budget.