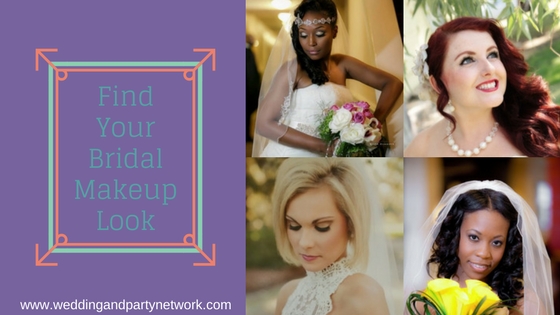 We scoured YouTube to find some great looks for your wedding day.  These are looks that you can achieve on your own or can show to your makeup artist.  From natural looks to retro glam, our experts covered all the bases to bring you the perfect look.
Natural
Many brides prefer a natural look on their wedding day.  According to makeup legend Bobbi Brown,
"On her wedding day, a woman should look like herself at her most beautiful.  This is not the time to try trendy or over-the-top looks.  It's about flawless-looking skin, colors that brighten and the right amount of definition."
To accomplish this look, use softer colors like greys, browns, pinks, and bronzes.  For your liner, tone it down and leave the winged out look for another time.  A few false lashes are okay, but nothing too dramatic.  Apply a light blush to your cheeks and layer with highlighter for a soft glow.  Use a little lip gloss or sheer lip color to finish your look.
Bold
For some brides, a natural or classic look just doesn't fit their personality.  A look with bright colors will help the bride stand out even more, and lets her have some fun with her makeup look.  A bold look will use bright colors, or a smokey eye, dramatic lashes, and a more defined liner.  If you decide to do a bold eye, you may want to keep your lips toned down, and vice versa.
Classic
The classic bridal look has a little more sparkle than a natural look.  It is softer than a bold look, but uses a smokier eye than a natural look.  Think of it as the happy medium.  A classic look still uses browns, pinks and bronzes, but a more bold liner and lashes.
Retro
A vintage look is a classic look all on its own.  Retro looks are very matte and use soft brown shadows to accent the crease with lighter pinks all over the lid.  There is a lot of blending of the colors to create a soft gradual change in the color.  A cat eye style liner on the top lid, white liner on the bottom water line and bold lashes help make the eyes pop.  Finish the look with contoured cheeks and a bold red lip.
Choose a look that matches your personality, and makes you feel confident.  If you know a natural look is more suitable for your style, go with that.  Have a bold personality and want to show it?  Then go with a bolder, more glamourous look!  No matter which style you choose, you will look beautiful on your wedding day.  Need to find a makeup artist for you big day?  Click below to find a makeup artist in Wedding and Party Network's Directory!