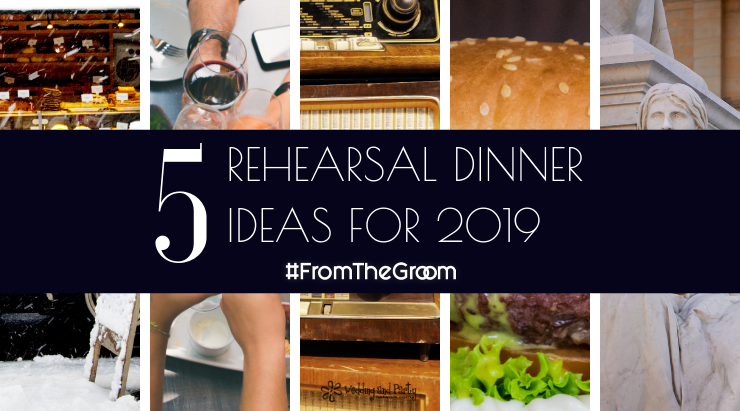 With engagement season underway, many of you might be recently engaged, in the middle of planning your wedding, thinking about popping the question, or single as a pringle and just reading this for shiggles. Don't know what shiggles are? Look it up. Anyways, there's one thing you should know before you walk down the aisle. The groom's side of the family is responsible for the rehearsal dinner. If you don't already know that, now you do. Now you may think that you can just hand over the cash and your fiance can plan it, but think again. It's going to be 2019, and you don't get off the hook that easily. So we're gonna help you and give you some excellent ideas for your rehearsal dinner! So get to planning dude!
Food Truck Park
There's no better rehearsal dinner to put you at ease with upcoming nuptials like a food truck park. It's super laid back, and you get a lot of great options for food that everyone can enjoy. Have some picnic tables out so everyone can just chill, and you'll have a nice distance between you and the future in-laws. Of course, if you like them, then it's a great setting to have a relaxed conversation with them. Either way a food truck park will allow everyone to feel chill and get ready for the big day.
Wine Tasting
If your tastes are of the finer entity, then opt for a wine tasting. Sure you could go for a beer tasting, but this dinner isn't all about you bro. Anyways, wine tastings are a great way to get everyone off the edge and to enjoy their time together. You will also get to enjoy a fantastic venue for great photos because you know all the bridesmaid are going to want to Instagram the heck out of that place. This venue can also double as the place where your wedding takes place, so you don't have to worry about changing decorations too much.
The 70s and 80s Theme
If you are the kind of couple that loves a spectacular costume party, then this is the theme for you! For fun, you and the rest of the wedding party dress up in 70s and 80s wedding attire. It'll make for a great time! If you plan to cater in food, look up foods that were popular back then and serve that. Better yet, have a candy bar with all the 70s and 80s candy faves. Have a DJ make a playlist with all your favorite 70s and 80s tunes and dance the night away!
Favorite Food or Restaurant
There's no better time to make a bunch of people eat foods that you love than at your rehearsal dinner. What's great about this is that you don't have to worry about choosing the food you hate or food your fiance hates because you both get to choose a menu, you both love! You'lll get major brownie points if you select the restaurant from your first date. Your fiance will love it, the bridesmaids will all be jealous of how sweet you are, and your groomsment will totally be taking notes!
Museum
Hosting your rehearsal dinner at a museum may seem like a really boring idea, but it's not. It can actually be a really great experience. For one, you don't have to worry about decorations because you'll already have great pieces of history or art surrounding you. Two, you could host it at a sports hall of fame museum. NOt only will you celebrate your upcoming marriage, but you can celebrate your favorite team and all the great things they accomplished! It's a win-win! And really, no one can tell you "no" because you're paying for it and planning it.
The rehearsal dinner doesn't have to be boring anymore. You can celebrate the love you and your fiance share while also enjoying all the things you like! So start planning your rehearsal dinner today before too many people have an opinion about it.
Best to book a venue first!