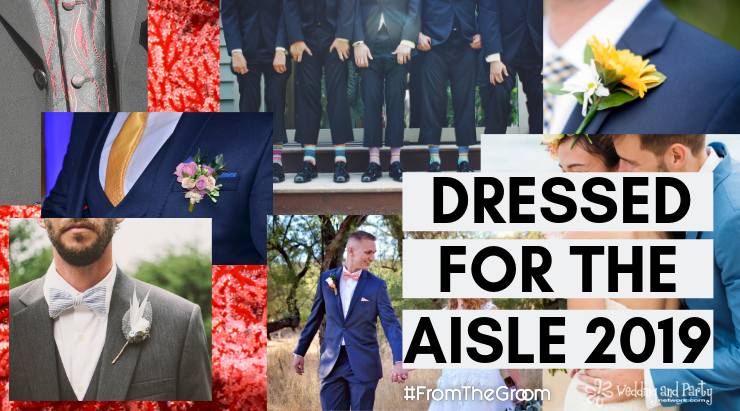 If there was a time to start searching for what you're wearing to your wedding, it's NOW! Do not wait till the last minute to decide what you and your groomsmen are going to wear on your big day. Sure, you might think you have time, but you really don't. So I'm going to give you some ideas of what will be trending in 2019, so you have a head start on what to look for! Quick tip before we dive in: you will need to make sure what you pick out in terms of color will go well with the colors you and your bride-to-be have picked out. Here goes:
Pantone Color of 2019
The only reason I'm telling you to wear living coral is that it's apparently supposed to be popular this upcoming year. However, this color had its moment at weddings back in 2013, and I guess this year we'll just have to give it a pass cause there are some classy living coral suits!
Bright and Bold
Now, this doesn't mean you have to wear a yellow suit or neon colors; if that's your style, go for it. However, this could mean deep tones- tones like a deep blue or deep green. If you're getting married in the fall, consider a tweed styled suit with these colors.
Tailored Suit
There is nothing better than a man in a well-tailored suit. This is a fact and you won't change my mind. Just ask Barney Stinson from How I Met Your Mother. He says, "Suits are full of joy. They're the sartorial equivalent of a baby's smile." If you don't have a tailored suit, then there's no better time than your wedding day to splurge on a suit that fits you perfectly! So it's time to, "Suit up!"
Statement Pieces
You might think you don't have the option to put a bit of your own pizzazz into the wedding, but that's where you are wrong. Thanks to the internet you can find a ton of ways to add interesting details to your suit. For example, you can have so many custom-made pieces like cufflinks, sock, and t-shirts made to go under your button-up.
Popular Colors
Two popular colors that seem to popping up are deep blues and light greys, which means you can easily coordinate you and your groomsmen for the wedding. Add pops of the wedding colors to give it a little extra zest.
Now that you know all this, why are you still reading this? You should have another tab open by now looking online for your suit and your groomsmen's suits. Just remember to take these tips and use them!