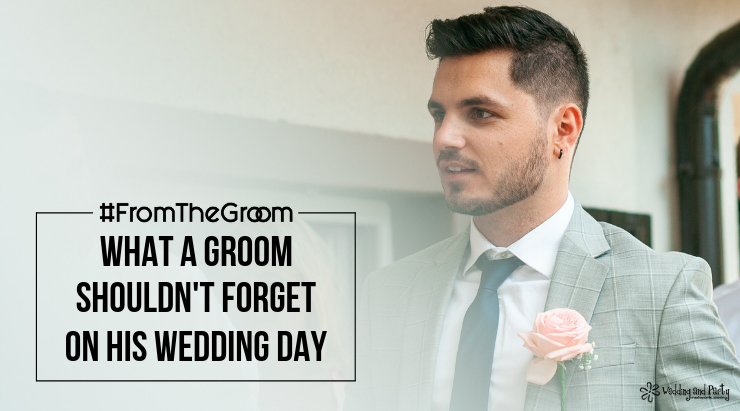 Wedded bliss is approaching soon. Excited, nervous or both, being prepared will ease unnecessary stress for you and your bride. You might be the most organized guy in the world, but on a day with so many pieces that need to fall into place, one oversight, while it might not ruin the day, can make it less than perfect. And, that's the risk you shouldn't want to take. Below is a list of a few things to remember that will keep you on track and out of trouble on the big day.
The schedule.
Your greatest responsibility on the big day is to show up on time with your entourage in tow. To make sure there is no confusion, text or email the schedule of events to them the night before and be sure to add a 30-minute cushion to the time they are supposed to show up. Don't tell them to arrive early – just say that's when they need to be there. Then if someone is late, you're all still right on time.
All items of clothing and accessories.
Lay everything out the night before to make sure you don't leave anything important behind – like your socks or deodorant. It will be a long day, so don't forget a phone charger. You might also want to pack a few things to entertain your buddies and get ride of those pre-wedding jitters, like a football or frisbee.
The rings.
You might think it goes without saying, but don't forget the rings. Give them to someone you can trust, who we're sorry to say, might not be your best man or a groomsman. While they are unlikely to actually lose your sacred circles, those guys might think it's funny to play a trick, so perhaps a family member or the wedding planner would be a safer, less stressful, choice.
To look at your best.
Every bride dreams of walking down the aisle towards her Prince Charming, so make sure your hair is cut and styled and your face freshly shaven or beard trimmed. To make the most of grooming on the big day, treat your groomsmen by hiring a barber to provide onsite shaves and trims.
Food for your crew.
Depending on the time of the wedding,  the day could be quite long, so make sure you have either a meal or snacks available for your guys to fuel up on. For afternoon weddings, meeting up for breakfast or brunch might be a good option. For an evening ceremony, order in pizza or ask the caterer to prepare a light spread that will tide everyone over until the reception. Be sure to provide plenty of water and little or no alcohol or beer – there will be time for all that later.
Groomsmen's gifts.
Show your appreciation to your best friends by presenting them with a special memento for standing up with you on your big day. Something personalized is a great way to go. Consider leather goods, cool grooming supplies, drinkware and bar supplies or wooden accessories like cufflinks, tie clips or watches.
The "something new."
Traditionally brides wear "something old, something new, something borrowed, and something blue." Whether your bride adheres to the old adage, gving her "something new" to wear on the first day of your lives together will earn you loads of bonus points. Likely, she has planned all of her major pieces of jewelry, so surprise her with something dainty that won't detract from her carefully designed ensemble. Consider perfume, a ring for her right hand, a pearl bracelet or something she can attach to her bouquet.
Your bride.
It's her special day. Even if you're nervous, you don't like a fuss or your family is too much to handle, just remember this day is about your wife. She has been dreaming about it for months, maybe even years, and it's your first duty as her husband to make sure she's happy. Remember to tell her how beautiful she look s and remind her, often, throughout the day of how much you love her. Whatever it takes, on this day, you do it – with a smile.