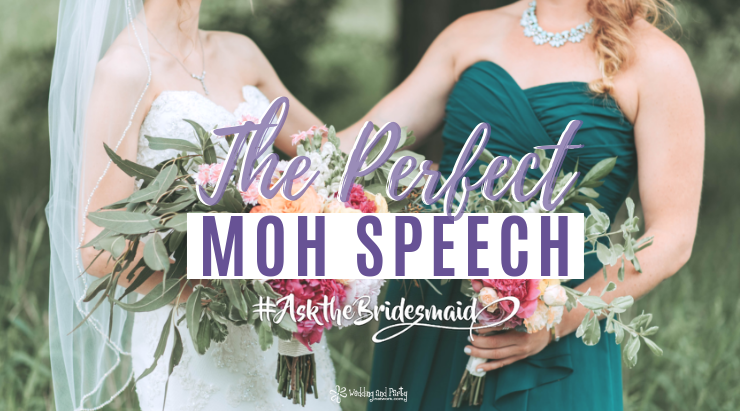 Let's face it. Being asked to deliver a speech on your BFF's big day is a bit unnerving. However, what you may find even more overwhelming is the number of things you could say – after all, she is your dearest friend. Thus, the biggest challenge when composing the perfect maid of honor speech is actually organizing your thoughts into a one to two-minute message.
So where do you begin? Certainly not the night before the wedding. The key to saying the right words in the rigt way is preparation. Start jotting down your thoughts several weeks, or even a month, beforehand to ensure you have plenty of good material to work with. Not sure what all to include? Use the following outline and tips to keep it light and lovely.
Open with a quick "thank you."
On behalf of the wedding party, thank all of the guests for celebrating the marriage of your dear friends. Don't forget to thank those who made the day possible, such as parents/hosts, family members, etc. Stay within one lengthy or two short sentences.
Introduce yourself.
Remember that not all relatives and friends may know you, so provide a bit of context by introducing yourself and explaining your relationship with the bride. You could include a cute or funny story about how you met or how far you go back.
Say something to the bride.
Transition from your stories of friendship into praise for the wonderful woman she has become. You can include another anecdote or simply use these two to three sentences to brag on her. Avoid inside jokes or embarrassing stories – save those for the bachelorette party.
Say something about the groom.
Continue your storytelling with how the bride met her perfect match. Don't mention any previous relationships – just say something nice about the groom and how he complements the personality of your friend.
Say something about their relationship.
Include a sentence about the bride and groom as a couple. You could also use a love quote or song lyric, especially if you know their song, to bring your comments full circle to their special day.
End with a toast.
Wrap it up with a big bow by wishing them a lifetime of happiness together and ask everyone to join you in raising a glass to the happy couple.
Writing out – or at least outlining – your thoughts is the best way to go. Prepare to talk for one to two minutes, which equates to about 150-250 words or a half to one page double-spaced if you're typing it.
Regardless of whether you get nervous in front of a crowd, practice your delivery so you can focus on speaking to the couple rather than reading word-for-word. Even if you memorize your speech, take a note card with bullet points just in case. Preparation will undoubtedly make you appear more comfortable.
Although it's called a speech, remember you are simply saying a few special words for your special friend on her special day. The most important thing to remember is keep it short, sweet, and sincere. Cheers!