The day of your wedding will likely be a whirlwind. Between getting ready, triple checking you have the rings, and talking to literally every person you know, you're bound to forget about a few things. One thing you don't want to forget is letting your photographer know certain photos you want to be captured throughout your big day! We'd hate for you to get your pictures back and find you don't have that one photo you really wanted, so we've come up with a list of must-have shots for your wedding day! 
If you've hired a professional photographer, odds are most of these shots are already on their list (especially if you found them through us). However, there's no such thing as being TOO careful with one of the most important mementos from your wedding day. If you decide to let a friend or family member just starting out do your photography, this list will help you both feel more comfortable and let you focus more on enjoying your day than worrying if they're capturing everything. 
Before 
Depending on if you do a first look with your spouse, most of your pictures can be taken before your ceremony even begins. Everything from details to group photos can be done in this time frame. A few of our faves:
The details (invitations, flowers, rings, decor, vows)

Any heirloom or special jewelry 

The dress (duh)

Pre-wedding fun (mimosas, matching pjs, shotgunning a beer with the broskis, etc.)

Hair and makeup details 

Groom's details (cologne, special socks, cufflinks, watches)

Mother of the bride zipping the dress

Father of the groom straightening the tie 

Adding the final touches (veil, jewelry, shoes) 

First looks (bride/groom, father/bride, mother/groom, grandparents, children, bridesmaids)

Individual shots with each bridesmaid/groomsmen/family member 

Bride with bridesmaids, groom with groomsmen

Bride alone

Groom alone 

Bride/groom traditional shot (full body, smiling and looking at the camera) 

Individual family shots

Group family shots (parents, grandparents, siblings, aunts/uncles, all together)

Giant group photo with families and wedding party 
During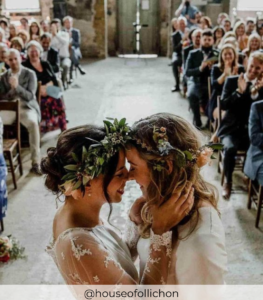 Obviously, if there is a part of your wedding you want captured, it's the ceremony. This is also the part of the day where you really benefit from the second shooter add on your photographer might offer. There are a few of the shots we recommend adding to your list:
Guests seated just before the ceremony begins 

Grandparents, parents, siblings being seated 

Groom waiting at altar 

Bridesmaids walking to altar 

Bride walking down aisle 

Groom reacting to bride 

Family/wedding party/guests reacting to ceremony 

Wide shots of ceremony 

Close ups of bride and groom

Exchanging rings

First kiss 

Recessional 

Newlywed candids just after ceremony 
After 
Whether your reception is short and sweet or you party till dawn, you'll want pictures to remember the night (trust us, it's all a blur the day of). This is the best time for candid moments with your friends and family that you'll love to look back on. Some shots we love:
Wedding cake  

Reception details (decor, favors, signage, tables, guest book) 

Wedding party entrance

newlywed entrance 

First dances with parents 

Guests having fun

Newlyweds having fun

Cake cutting 

Other traditions (garter and bouquet tosses, champagne toast)

Any group/individual shots that were not part of the wedding party (friend groups, other relatives, etc.)

Last dance

Send-off 

Getaway car 
Our list includes many of the shots a professional photographer will already plan to get throughout your wedding day, but if you see an idea you love make sure you communicate that with your photographer! If you have ideas of your own or know there will be special moments you want captured, add those to your list too!