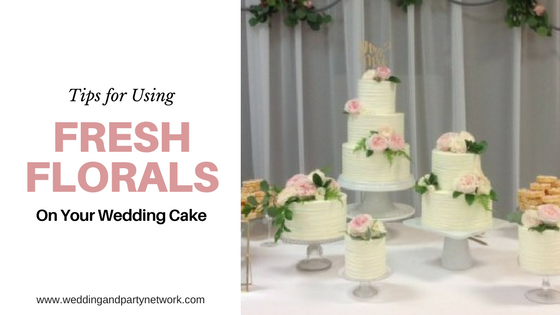 If you are tired of the same old wedding cake toppers and decorations, we have some great news! Fresh florals on cakes have been on the rise for the last couple of years, and this trend shows no signs of slowing down. A simple tiered wedding cake comes to life when you add flowers. One thing to keep in mind if you are planning to use fresh flowers on your cake: Are these flowers safe for your guests?
Culinary florals are making a huge comeback. It's not unusual to see a sprinkle of pansies scattered across your dessert plate. These flowers are food-grade, edible, and safe for human consumption. When you decide to add florals to your wedding cake, you have to be careful that what you are adding to your cake won't make your guests ill. Your baker and your florist should be able to help you with this.
Don't be discouraged if the flowers you have chosen aren't edible. There are still ways that some of these can be incorporated into your cake design. It will just require a little more creativity from your baker and florist. Elaborate cake toppers can be attached using special holders, as can flower cascades. There are also other methods that can be used by your cake designer to create a barrier between the florals and the edible parts of your wedding cake.
If you are crazy about flowers and want your wedding cake to blossom with edible blooms, this chart from Flower Shop Network has a great variety of flowers that you can choose from to go on your cake. Remember, you want to make sure your baker or florist (whoever orders the flowers) uses organic, food-grade flowers that haven't been exposed to any chemicals or pesticides. Their article also has a list of some flowers that you will want to avoid coming into contact with the edible parts of your cake. Again, it's still possible to use these flowers, you will just need to use some of the methods we mentioned earlier.
Looking for more wedding cake inspiration?
Title Photo via Susie's Cake Bakery