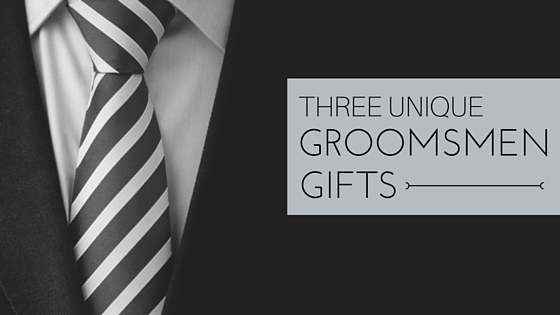 When you are planning your wedding it's important to show appreciation to not only the bridesmaids, but to the groomsmen as well. They work hard to make sure their role in your wedding is perfect, so here are some unique gift ideas for these special men.
1. Custom Cell Phone Case
Chances are, all of your groomsmen keep a cell phone on them so this gift is sure to be used. You can customize them with their initials, a special symbol, or simply with their favorite color. You can even choose ones that are made of real wood, giving them a real rustic and manly look.

2. Tickets to an Event with the Groom
I know from experience that marrying off a best friend can leave you feeling left behind. Assure your groomsmen that they are not by promising them some hangout time even after the wedding. Gift them with tickets to an upcoming baseball game, concert, or handmade tickets to a weekend fishing trip. They will be able to look back at your wedding with fond memories AND be able to look forward to this particular event with you!

3. Personalized Cutting Board
There are some really awesome cutting boards out there just for men! If your groomsmen are self-proclaimed chefs or would prefer to hang a customized bamboo or wooden cutting board on a wall in their home, then this is the perfect, unique gift. It can be a permanent fixture in their home that can either be used in the kitchen or serve a dual purpose as a decoration and a reminder of your special event. Options for personalizing include: initials, your wedding date, or a quote from an inside joke from the wedding weekend.
Tell your groomsmen "Thank You" with gifts like these that are thoughtful and different. They will finish your special day feeling loved and appreciated!