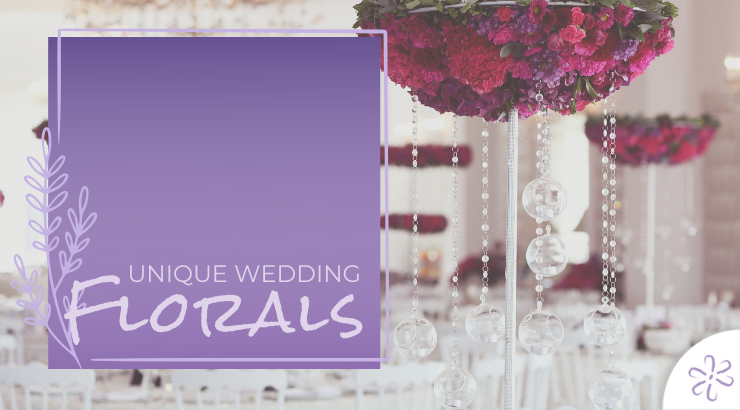 Flowers have always been a big part of weddings! From bridal bouquets to boutonnieres to petals on the aisle, wedding flowers are something everyone loves to see. But what are some other ways you can incorporate flowers into your wedding decor? Check out some of our favorite wedding floral ideas:
Altar-ing It Up
Add a touch of your wedding flowers to the place you'll say, "I do!" By incorporating a beautiful selection of flowers and more, you can turn your wedding altar into a stunning backdrop for your vows. Plus it'll look great in the photos!
Glamour Those Side Tables
Enhance the side decor of your wedding with flowers! Whether it's your guestbook table, the memorial table, or something in between, adding fresh flowers is the perfect way to elevate it to the next level.
Dress the Cake
Adding flowers to your wedding cake is so simple, yet so stunning! It can really transform the cake into its own decor piece and tie in your wedding decor throughout the entire event. Plus, it'll look as delicious as it's sure to be!
All Eyes on the Centerpieces
A classic decor option, you can elevate your wedding centerpieces with beautiful, fresh flowers! Big or small, these flowers are sure to stand out against the table, making them the perfect way to incorporate your wedding colors into your reception. Plus, it's a super-easy way to make every table look exquisite without breaking the bank.
Aisle Do
We all know about the flower girl throwing petals before you come down the aisle, but what about decorating the actual aisle? From a few blooms to extravagant arrangements, you can make your aisle a highlight of your day and the opening to the main event—you!
Couple's Chairs
Make your table extra unique by adding a gorgeous arrangement to your chairs! Not only will they show everyone where the couple will be, but it also allows you to have something special just for you and your love. And you won't have to worry about someone stealing your spot!
Wedding flowers are always a highlight of the day! Adding them to unique places is sure to make your wedding something to remember.