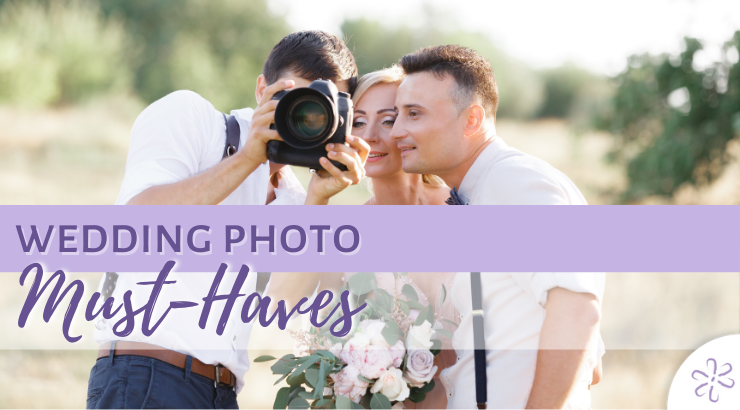 There are some things in your wedding that you're not going to want to miss—i.e. All of it. 😉 We want you to put full trust into your photographer and have confidence that they're going to capture all these special moments of your big day, but it's also important to let them know which parts you want to be captured! We've gathered 10 of our "must-have" wedding photos that you might forget!
Your accessories
While you're getting ready, have your photographer snap a few quick photos of your shoes and accessories before you put them on!
Getting ready
Say "thanks" to your hair and makeup artists by giving them a photo to remember their work by! They'll love having a memory of them doing what they love the most—making you look beautiful.
Lacing up
Whoever will be helping you zip, lace, or clip your dress should remind the photographer to take a few pictures of them helping you put the finishing touches on your wedding day look!
Suiting up
Don't forget to have some photos snapped of your significant other putting on their suit and tie! These make great wall hangers for the home, alongside you in your dress.
Boutonnieres
Just like your accessories, have your photographer take some photos of the suit accessories as well!
The little ones
Catch the little ones getting excited to walk the rings and flower petals down the aisle!
Guests arriving
Capture all the smiles of your guests getting ready for you to become a newlywed!
Wedding party first look
Your photographer surely won't forget to capture the first look with you and your significant other, but don't let them miss the moment your best friends see you in your wedding day attire for the first time!
Wedding gifts
If you and your significant other are exchanging wedding gifts on the big day, be sure to open them at separate times so your photographer can catch both moments!
Guest reactions
Your wedding venue is going to be absolutely stunning, and your guests are sure to be wowed, so have your photographer catch their first reactions to your ceremony and reception hall decorations!
Your wedding photographer will remember all of the photos that are normally taken on the wedding day, so if you have any special requests like this, be sure to make a list to go over with them!
---
Contributor Kacie Schechter
Kacie Schechter is a Marketing Specialist who is passionate about all things content creation with a Bachelor's Degree in Marketing from the University of Arkansas Walton Honors Program who loves hiking with her fur babies!