When beginning to design your wedding reception, there are so many options, you may get confused as to where to start. How about starting from the basics? Wedding and Party Network has your guide to wedding reception table styles.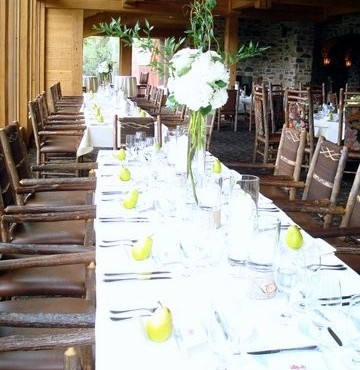 Rectangle/Square Tables
Short rectangular tables or square tables give the feeling of a family dinner. Square tables are quite modern and are slowly making their way to the spotlight due to their contemporary look.
Pros: Saves a lot of space, especially in a small reception area. Most linens you can find in stores are sized for these types of tables. Squares are great for guests to converse comfortably (while rectangle tables may be a little more difficult for guests sitting at opposite ends).
Cons: Corners will cause guest to bump legs under the tables and it's better to go with minimalistic decor on these tables due to size.
Round Tables
The most popular reception table shape. Round tables allow people to interact without feeling left out.
Pros: Most tables are big enough for grand table decor. Your guests have plenty of leg room and most tables usually fit about 10-12 guests comfortably.
Cons: If you have a small reception space, multiple round tables will be difficult to fit together. So, if you end up having extra guests, it won't be easy adding another table.
.
Banquet Table
One long continuous rectangle table. This family style seating creates a nice, intimate family dinner feel to your wedding reception.
Pros: If a close family gathering is what you are going for, then this is the perfect setup for a small wedding. You also save on extra table linens and decor.
Cons: Some people will feel too far away from you. Depending on the size of your party, you may need to decide on served catering because buffet style would be a bit of a hassle.
Don't feel like you are tied to what everyone else has done in the past. You have endless options and you can even do a combination of all! Check back with Wedding and Party Network for more ideas and tips.