Whether you're looking for a classic or something unique, there are rings out there for every guy. Sometimes it can be a challenge to find the perfect match for that special man in your life, so we've come up with a few ideas to help you decide.
---
Celtic Knots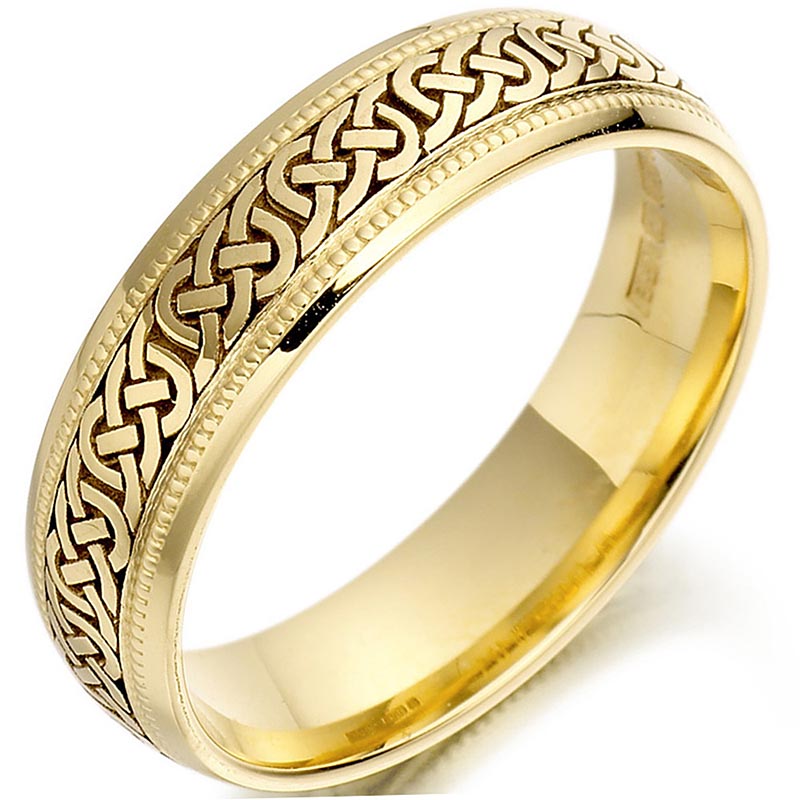 Irish Wedding Ring – Mens Gold Celtic Knots Beaded Wedding Band – Photo Courtesy of IrishShop
Have some Irish in your family? These Celtic knots make a beautiful patterned ring with a touch of Irish. Gold is also said to boost the flow of oxygen in the body.
Black Diamond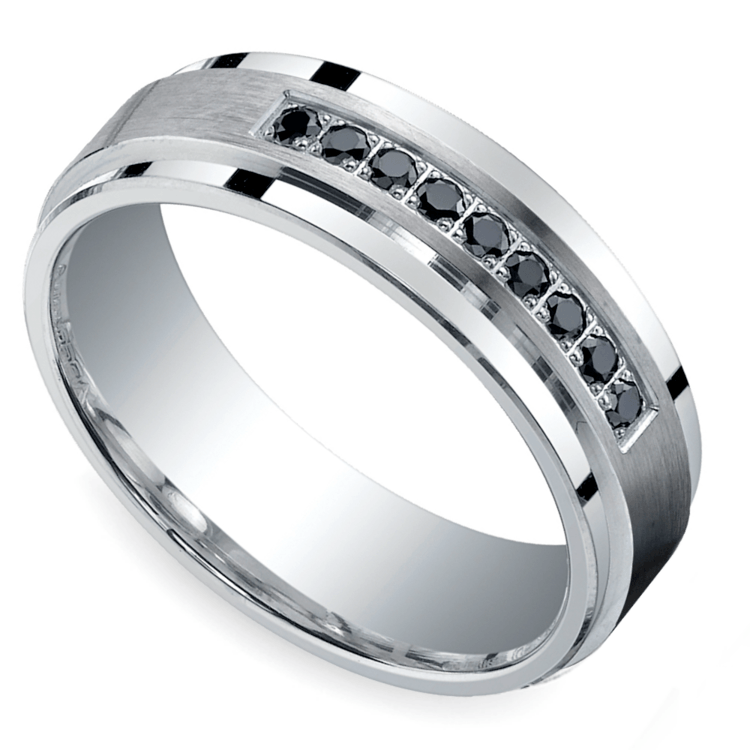 Black Diamond Men's Silver Wedding Ring – Photo Courtesy of Brilliance
Diamonds aren't just for women, they look great in men's rings too! These beautiful black diamonds add a bit of masculinity to the classic diamond ring.
Brushed Finish
Titanium Thin Men's Wedding Ring Brushed Finish – Photo Courtesy of MensRingsOnline
Rings with a brushed finish create a look that is both simple and classy while hiding scratches. The beveled edge adds dimension, and the thinner style turns classic into modern.
Multitone

Trinity De Cartier Wedding Band – Photo Courtesy of Cartier
Not only does a multitone ring stand out, but the great thing about it is that each color can represent something different to you and your significant other.
Ceramic Wood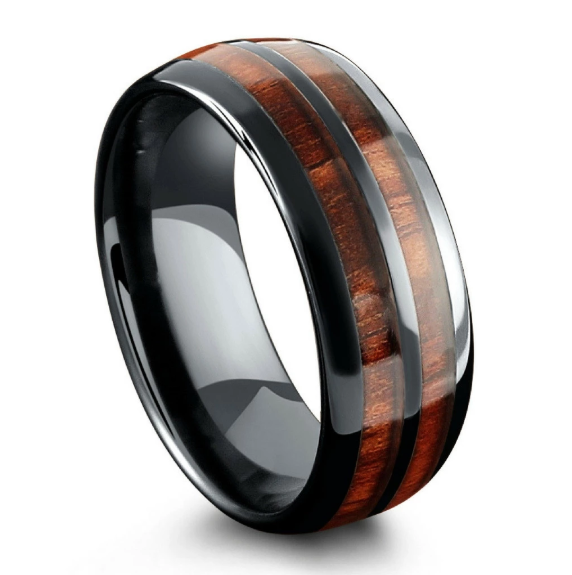 Barrel Ceramic Koa Wood Ring – Photo Courtesy of Northern Royal
This ceramic ring inspired by antique wooden wine barrels is lightweight, durable, and creates a wedding band that pops.
Intricate Details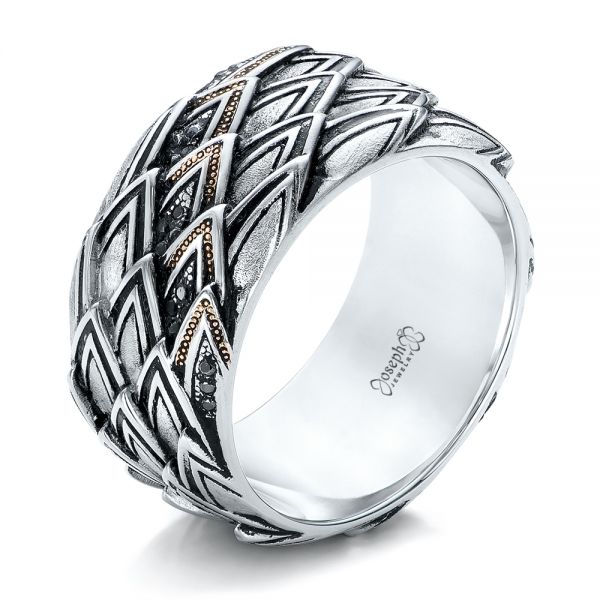 Men's Custom Snake Scale Wedding Ring – Photo Courtesy of Joseph Jewelry
This snake scale ring is designed with white gold and accented with yellow gold and black diamonds. It's small details like these that really add a unique value to a wedding band.
Infinity Knot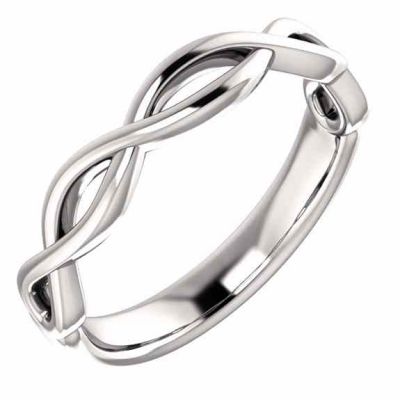 Men's Infinity Knot Wedding Band Ring – Photo Courtesy of Kingdom High
The Infinity Knot ring is a special band that represents the neverending love between you and your significant other. It's delicate but strong just like love should be.
Laser-Engraved
Laser Carved Forest Pattern Men's Wedding Ring In Cobalt – Photo Courtesy of Brilliance
Laser engraved rings can also represent something special. Whether that's your favorite place to be or a place you've never been to, pictures on bands like these are bound to stand out.
Gunmetal Sapphire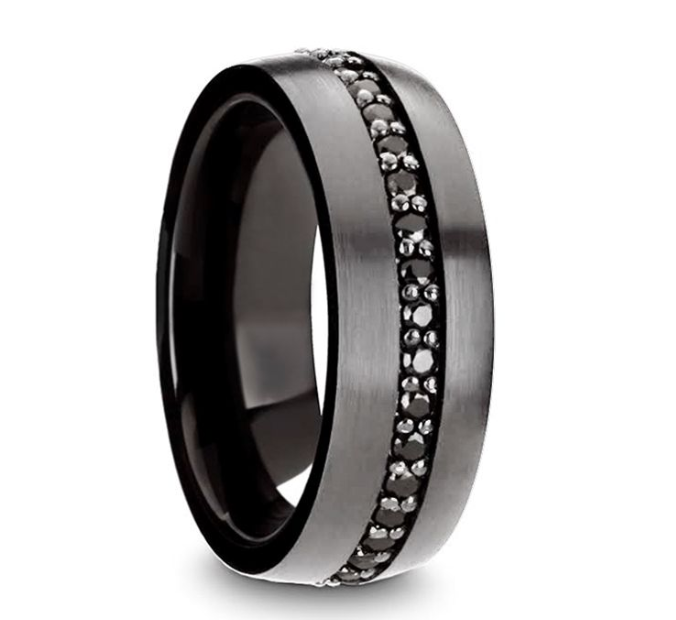 Pilot Gunmetal Tungsten Ring with Black Sapphires – Photo Courtesy of Larson Jewelers
This ring's beautiful inlay of black sapphires is classy and masculine. The brushed gunmetal creates a scratch-resistant band to last a lifetime.
These unique wedding bands have their own story and design that is sure to please your soon-to-be husband. Find a ring that suits his personality and ties everything together. Whether it's simple or complex, it will represent a special part of your life forever.
---
Ready to find the perfect wedding band? Contact a vendor today!