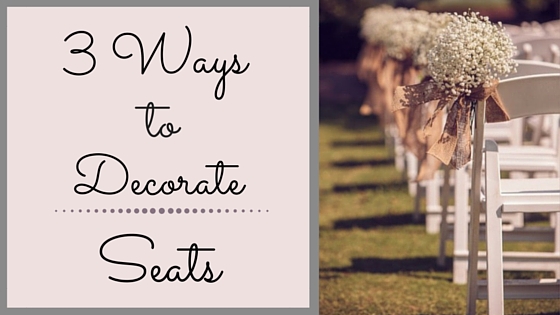 There are many ways to decorate the various elements in a wedding. Don't overlook one of the biggest ones, the seats! These ideas can be used separately, by mixing them up, or even by using all three at the same time.
1. Fabric & Ribbon
It's all about fabric and ribbon! An elegant way to decorate is to bulk up on fabric in the hues of the wedding and use them in the seats. Simply take ribbon and attach it to the chairs with knots, bows or brooches. For a vintage wedding, you may want to use lace, for a rustic theme, incorporate burlap. For a country feel, use a simple print fabric that can be interwoven into the back of the chairs. A fabric that has dimension that hangs the length of the chair can really make it pop. Decorating with fabric and ribbon can be as simple as draping tulle in a single color on the chair, or gathering fabric around the back and adding a pin.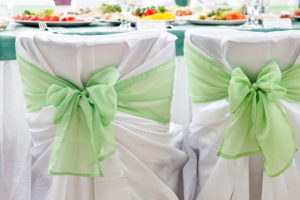 2. Flowers
Why only use flowers for centerpieces and the bridal party bouquets? Flowers are easily one of the most beautiful elements in a wedding. Why not take that elegance, color and fragrance and put it on the seats? It can be simple – a single rose posed in the corner of a chair, or more elaborate – a bouquet of flowers in a vase hung with a ribbon from a chair back. A strand of ivy can be used to drape, and a bit of baby's breath  hung with ribbon can be simple and unexpected. For something truly pretty, try a few peonies gathered together at the back of a chair that has been draped in white fabric. Ribbon in a matching color brings this whole look together. The possibilities are endless. This is one way to bring out the flowers and wedding colors while making the whole setting more beautiful.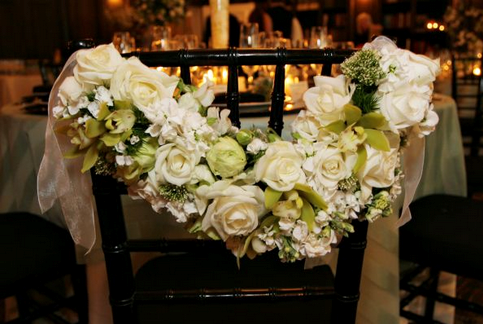 3. Signs
As attention to details becomes more popular, particularly for themed weddings, the use of wedding chair decor seems to grow too. Using signs in weddings has become a mainstay in both the wedding and the reception. Signs can be just as original and personalized to the wedding as fabric and flowers. Wooden signs are perfect for a rustic wedding, glitter signs are spectacular for a glam feel, and chalkboard signs are a practical choice as you can write whatever you want on them. The most popular signs will be "groom" and "bride" or "Mr." and "Mrs." but a quote special to the couple  displayed between two chairs, like "I would walk 500 miles…and I would walk 500 more" can be ever as bit as charming.
Every wedding has chairs, why not make them special?
To find great vendors that can help you make the wedding of your dreams visit our Wedding Vendor Directory where you can find local vendors that fit your budget!