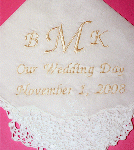 "Something old. Something new.
Something borrowed. Something blue."
Let's focus on the first part of the old adage for a moment. In the age of contemporary weddings and modern brides, sometimes incorporating something "old" just doesn't seem to work. However, there are many great ways to bring luck and happiness to your union by fulfilling the "something old" tradition.
Many women look to mothers, aunts, grandmothers, and older family members when searching for something old. Many times these women have vintage jewelry, antique handkerchiefs and other family heirlooms. These are very appropriate and can be incorporated into a modern ceremony with ease. For instance, a beautiful white wedding gown with a ribbon cinched around the waist is an excellent place for a vintage brooch. Simply attach the brooch to the center of the bow and bob's your uncle!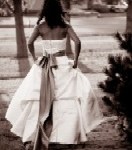 It's important not to think of "old" as "ugly" or "run down." In fact, "old" can mean "vintage" or "antique" which are always in style. Think about how styles seem to repeat themselves every 20 years. Once a generation hits their mid-life, they begin to relive their younger days and their children mimic this. Lucky for the modern bride, this means that "vintage" will always be in style!
While the wedding gown that my mother wore in 1980 may not be the best fit for me, the ring she wore on her right hand is the perfect fit. Not only does this put a smile on the face of the special lady whose articles you are wearing, but it also bonds you to her in a very unique way.
What you definitely do not want to forget is to find a wedding photographer to capture these moments! It will be such a sweet treat down the road to look at the pictures of the first time that your mother saw you in her wedding veil or your groom's grandmother handed you the same penny for your shoe that she wore in hers. These treasured moments will last a lifetime in your memory but seal them in the minds of everyone else with photography and/or wedding videography. You'll be glad that you stuck with something old!