Many couples opt for the perfect summer wedding, but not everyone enjoys the heat. Winter weddings are great for those that prefer a beautiful snowy background and frosty color palettes. There are so many options available to help you create your dream winter wedding. Cozy venues with stone fireplaces, food stations with hot cocoa and towers of chocolate, and so much more. Get some wintry inspiration with a few of our ideas!
---
Delightful Decor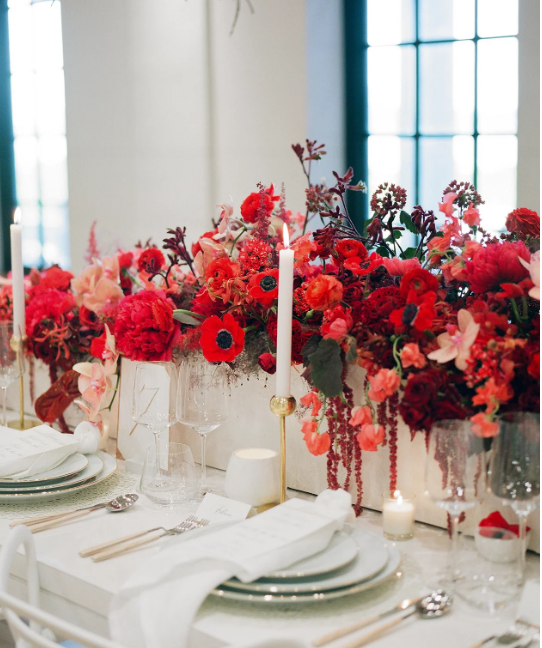 Photo courtesy of Asher Gardner
Nothing is more stunning than deep, vibrant reds popping out on a crisp, clean white background. This picture is the perfect example of just how gorgeous these colors look together. Use beautiful floral arrangements of various red flowers as your centerpieces for an absolutely jaw-dropping look.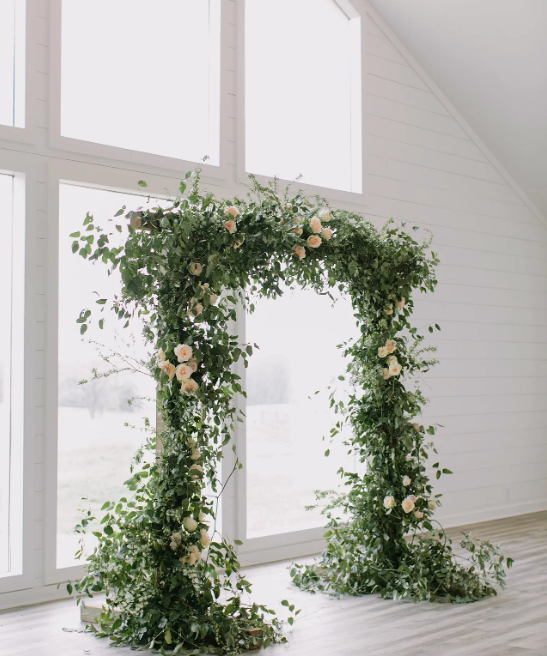 Photo courtesy of Mustard Seed Photography
Now, this is a wedding arch we can get behind! The greenery on this is fantastic and the roses used throughout are the perfect touch that pulls it all together. Set this up as your wedding arch for a beautiful ceremony—it'll be a great background for all those wedding photos.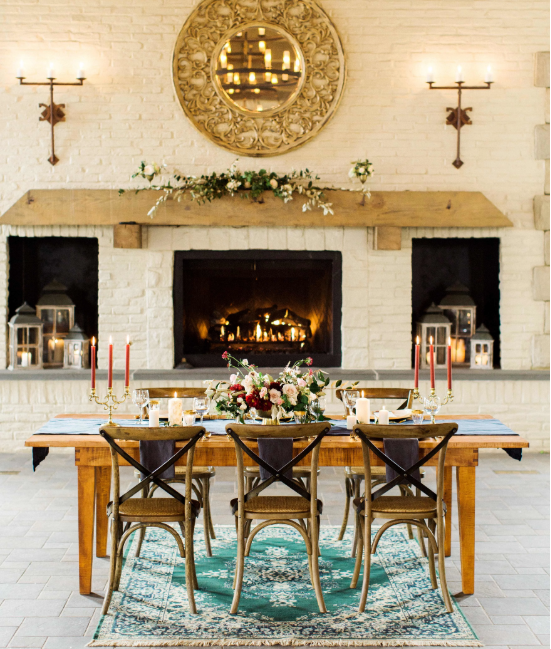 Photo courtesy of Amy Nicole Photography
This cozy reception venue is the perfect place to celebrate. The stone fireplace will keep everyone warm all night, and is an elegant addition to the room. Add a gorgeous vintage rug and lots of candlelight to complete your wintry decor.
Arctic Attire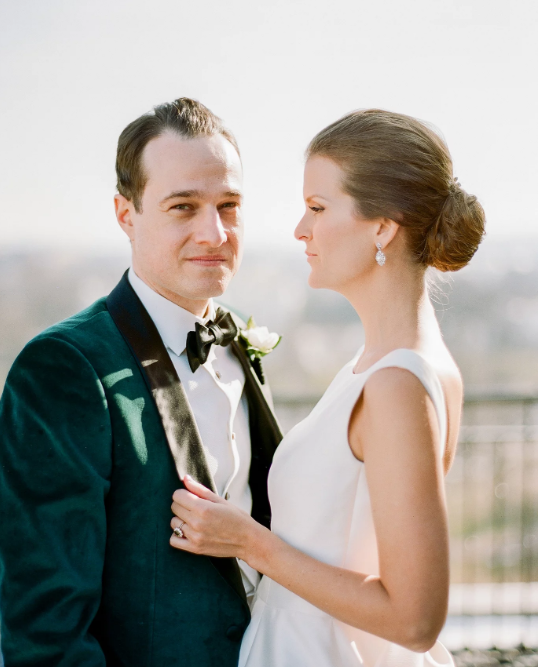 Photo courtesy of Clay Austin Photography
Meet your bride wearing the best suit of the season, which just so happens to be a tuxedo in emerald velvet. This color is the perfect way to add a modern twist to a classic look. You want to look your best on your big day and this suit will make sure you do.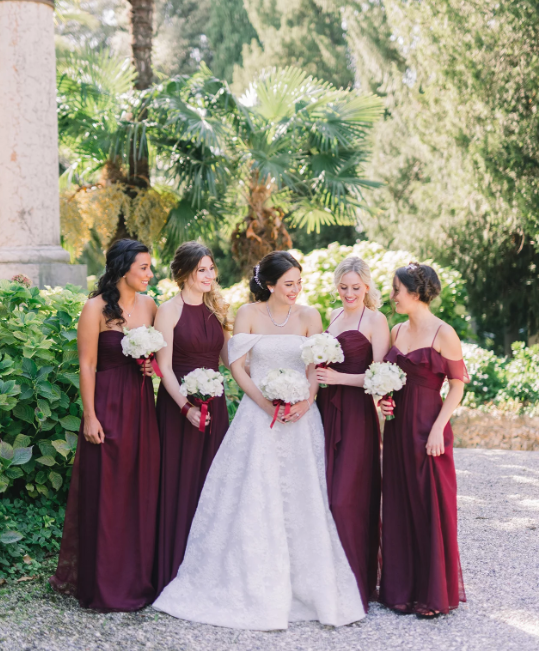 Photo courtesy of Anya Kernes
Burgundy is a popular winter color, and for good reason. This color compliments many different skin tones and makes the bride stand out in her gorgeous white dress. You can also mix and match different bridesmaid dresses for a contemporary look.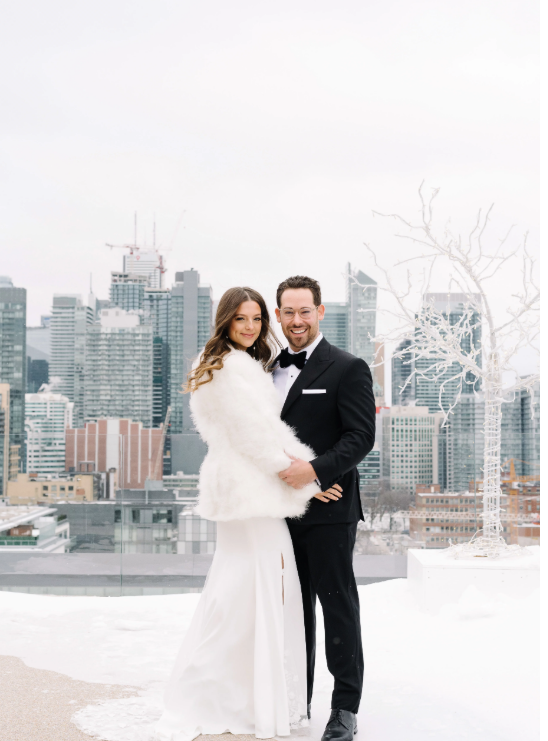 Photo courtesy of Barb Simkova/Tara McMullen Photo
Having your winter wedding outside? Don't freeze to death out there—you just need the right accessory. Grab some luxurious white faux-fur to keep you warm while you say "I do!" Once the ceremony is over you can keep it on or leave the faux-fur behind and show off your beautiful dress.
Comforting Cuisine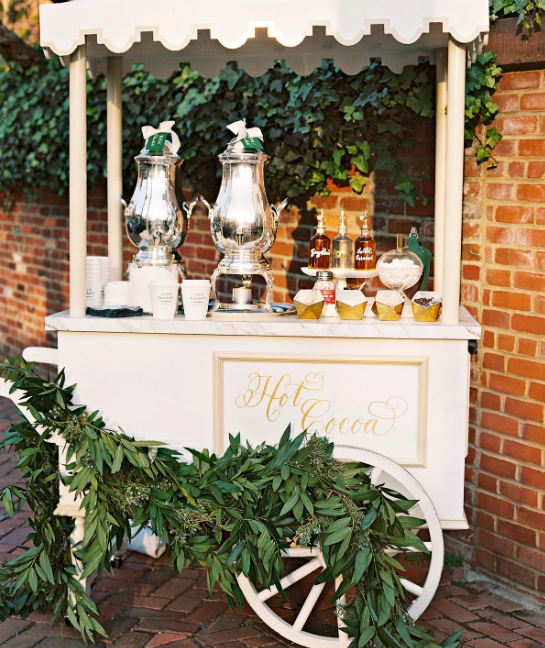 Photo courtesy of Abby Jiu Photography
No winter wedding is complete without an extravagant hot cocoa cart. It's the perfect way to make sure you and your guests stay warm with a yummy beverage. Let your guests pick between white or dark chocolate, with plenty of toppings to choose from.
Photo courtesy of Abby Jiu Photography
The wedding cake is one of the most important things to get for your wedding reception. You want it to be not only delicious but stunning as well. This marble cake is just that—absolutely stunning. The gold embellishments and subtle greenery are the perfect details that this cake needs.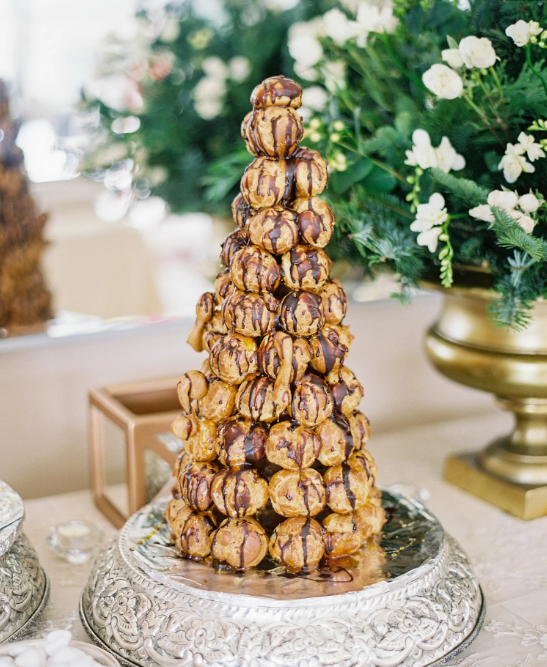 Photo courtesy of Vicki Grafton Photography
Can you ever have enough chocolate? We don't think so! Serve the best-of-the-best in a Christmas tree-inspired tower to stand out on your dessert table. Not only is it delicious, but it looks amazing too. This will add a little bit of the holiday spirit to your big day.
Have a wonderful winter wedding with a few of our ideas! Let us know which one was your favorite in the comments below.
---
Find the perfect winter wedding decorations with a local vendor!