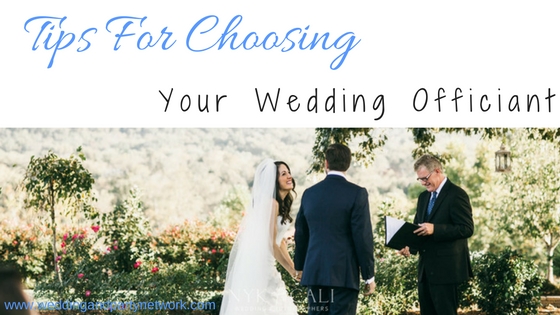 You've set the date, chosen a dress, and addressed invitations, but there is one important thing, or should we say person, that could be missing: The wedding officiant. In some cases, your wedding won't be legal without one. Either way, your wedding day will be missing an integral part without an officiant. Here are 5 tips to help you choose the right wedding officiant for you "I do's."
Religious, Interfaith, and Same-Sex Weddings
If you and you future spouse both practice the same religion, then finding your officiant may not be very difficult. You will most likely just ask the leader of your religious organization. This isn't the case for everyone. Some may not have a home church, or may not practice the same religion. If you do not both attend the same church, take a look at our directory of officiants to find a local officiant. Choose a few different officiants and set up interviews with them to decide who will be a good fit.
If yours will be an interfaith wedding, you will have to find an officiant who is okay with performing both ceremonies or sharing those duties with another clergy member. Non-denominational or alternative members of the clergy are usually more open to working with you to fit your specific needs, and will work with you to create your own special ceremony. These are also great options for same-sex weddings.
Type of Ceremony
The type of ceremony and formality of your wedding can have an effect on your wedding officiant. Some members of the clergy are steeped in tradition and will only perform a tradtional ceremony, which normally takes place in a church. If you are wanting a more casual or alternative wedding, you may ask your venue or other vendors who they would suggest for an officiant.
Find Someone Who Respects Your Wishes
An important characteristic to look for in your officiant is someone who will respect your wishes. Some couples like to write their own vows, or would like to change some of the language in a traditional wedding ceremony. Find an officiant who will respect your wishes and keep the ceremony to your liking.
Look for Open-mindedness
In the same way you want your officiant to respect your wishes, if you are straying very far from the traditional, find someone who is open-minded. The more open your officiant, the more relaxed and personal your ceremony will be.
Legality
Make sure whomever you choose can legally marry you in your state. Different states have different marriage requirements. You may want your friend who was ordained online to marry you, but not all states will recognize this kind of marriage. Some states require a member of the clergy or a county judge or justice of the peace to marry a couple in order for it to be legalized.
While it may not seem like it, choosing your officiant is one of th emost important parts of planning your wedding. They will conrol the flow of your ceremony and help provide positive energy for the day. If you aren't sure who you are going to have offciate your wedding, take your time and speak with different officiants to choose the best fit before deciding.