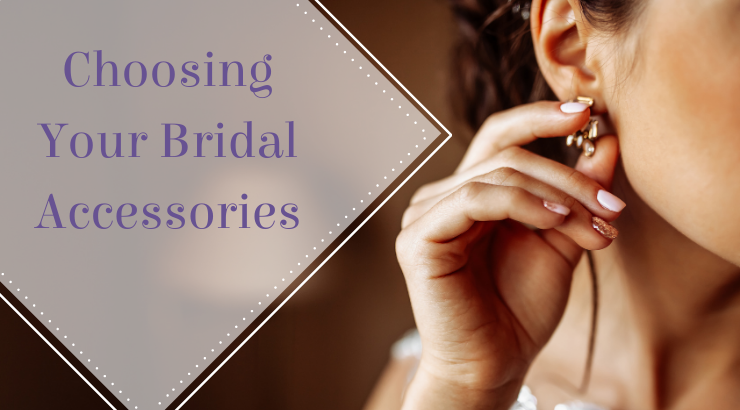 You've finally found the perfect dress to walk down the aisle in on your wedding day. Finding a wedding dress can be one of the most exciting things about wedding planning, but the search doesn't end with just the dress. Accessorising often helps complete the look and makes you feel as if you are a true bride. From veils to jewelry, shoes, and garters, many things go into constructing your beautiful bridal look! We're here to help you explore a few options that will make you feel like the most beautiful bride on your wedding day.
Veils and Hair Accessories
Veils are often a staple piece of the bridal look. This iconic accessory often can be the one piece that makes you truly feel like a bride. If you're a bride who hasn't found her dress, we recommend trying a few veils on while out shopping. Even if you feel like you are not interested in wearing one, you may end up being very pleasantly surprised! Bridal veils come in all shapes and sizes and can be matched to fit your dress style and overall appearance. Some may be very plain, while others are covered in sparkles or embellished with lace. Keep in mind what is most important to you and how you want to look while walking down the aisle. If you have a dress with an open back, you may want to choose a more sheer veil. Remember that the veil is there to act as a highlight and not steal the whole show. Finding a veil that suits you and your dress style can make the most significant difference in how you accessorize on your wedding day.
Perhaps a veil isn't quite your style, or you found the perfect veil and are just looking for that extra bit of glam to complete your appearance. Thankfully there are tons of different options to help enhance your bridal look. Whether you plan on wearing your hair up, down, or somewhere between, there are endless options to choose from. Clips, combs, and hair vines are a great way to help you complete an updo and help add the perfect amount of sparkle. Maybe you're someone who has always dreamt of a princess look; bridal tiaras and flower crowns are a stunning way to achieve this look and leave you looking like the most beautiful bride there ever was. No matter if you choose to match it with your veil or just go with the hair accessory, you simply can't go wrong with either one of these pieces.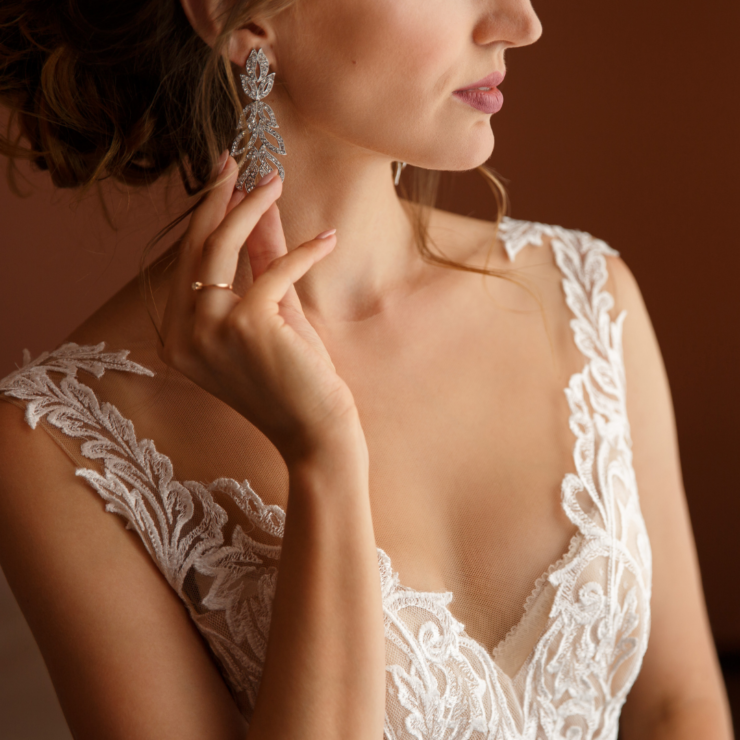 Jewelry
Jewelry is a girl's best friend, especially on her wedding day! However, choosing jewelry that accentuates your look can be a daunting task. Always remember that less is more. You never want your jewelry to take away from your gown, so make sure to choose pieces that are complementary rather than flashy. Matching metals is another essential factor in finding your wedding day jewelry. If your wedding ring is silver, go with silver jewelry; if it's gold, go with gold. When choosing between earrings, necklaces, or both, keep your dress's neckline and style in mind. It's easy to go overboard with accessories, so by deciding what looks best with your attire, you can avoid having a cluttered look.
Shoes
Nothing is complete until you add a pair of shoes! We may have lied in that last section; shoes are a girl's real best friend. Though your shoes have the potential to be covered up by your dress, this is no reason to not pay attention to them. The number one thing to keep in mind when choosing a pair of bridal shoes is comfort. You will be on your feet a ton during your wedding day, and you want to be sure that your feet will be well-cared for. Consider the type of shoe that will look best with your dress and then move forward from there. The higher the heel, the more at risk you are for a sore foot. Buying shoes is not the time to be cheap. Investing in high-quality, comfortable shoes can be the difference between a blistered foot and a shoe worth dancing in. Typically brides have a wide variety to choose from when it comes to shoes; however, if you have a dress with a slit, you'll want to pay a little extra attention to this detail.

Garters
Garters are a fun accessory that is typically worn for the beloved garter toss during the wedding reception. Though this accessory may be hidden most of the time, it is not to be forgotten. Garters come in all shapes and sizes and allow for the bride to choose what is most comfortable to her. It is not uncommon for a bride to wear 2 garters, one for the toss and one for herself. Just remember to tell your partner which leg it's on so they can get in and out in as short amount of time as possible.
Bridal accessories are such a fun part of planning out a wedding day. They complete the full essence of being a bride and make you feel genuinely special. Remember to be yourself with your accessories and don't stray far from your normal style. After all, your partner chose you for a reason.