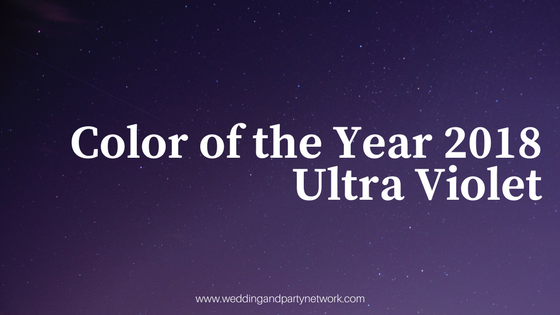 With the introduction of Greenery as Color of the Year for 2017, Pantone has returned to a bold jewel tone for 2018. Welcome, Ultra Violet as Color of the Year 2018! Ultra Violet is a blue-based purple that draws inspiration from the universe. From music icons to the cosmos, deep purples have been known to influence deeper thinking to calming energies. This rich and vibrant tone will look great for both wedding and party decor alike.
There are so many ways to incorporate Ultra Violet into your wedding. Many flowers come in the lush tones of Ultra Violet. Roses, ranunculus, calla lilies, and tulips are just a few of the flowers you could feature at your wedding. Pair Ultra Violet with other jewel tones like sapphire and emerald, or silvers and grays.
Ultra Violet could be akin to amethyst which is the February birthstone, so those with February birthdays can look forward to finding decor for their party more easily. However, you can use Ultra Violet to create a truly unique party for any occasion. Pair it with golds or other shades of purple for a whimsical feel or black and deeper tones for a more gothic tone.
Purple has often been associated with royalty. The luxuriousness of Ultra Violet will no doubt inspire many a decadent opportunity. It can easily be used as a statement color or a companion and will easily be styled and transformed to meet the vision of those who choose to use it.