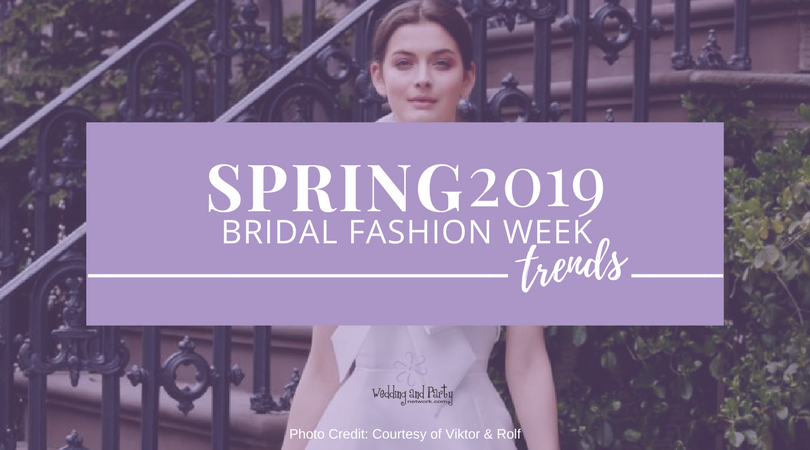 This year's Spring Bridal Fashion Week was a complete success! We saw everything from tiered wedding dresses to flower accents and intricate pearl embellishments. If you are tying the knot, definitely check out these stylish wedding trends!

TIERED WEDDING DRESSES
This style is beautiful and fun! You'll definitely feel like a princess walking down the aisle with this dress.
JUMPSUITS
Are you not a big fan of dresses? That's okay! Jumpsuits are a great option for brides to look and feel beautiful on their special day. This year, jumpsuits were highlighted by many designers since more and more brides are choosing to go with the non-traditional.
CAPES
The cape trend is definitely one of my personal favorites! Models were seen gracefully walking the runway with sophistication and elegance.
FLOWER ACCENTS
Flowers, flowers, and more flowers! They were attached to veils, sown to sleeves, and even worn as accessories. Honestly, nothing screams spring better than flowers! Right?
BOWS
Bows were another big trend on the runway. Super chic, stylish, and beautiful!
PUFFED SLEEVES
Make a fashion statement with this trend by incorporating it into the design of your wedding dress. Play with lace and other fabrics or materials to see what works better for you. This 80s style is coming back, why not take advantage of it?
Want a dress that follows the trends of this year's Spring Bridal Fashion Week? Find wedding gowns by clicking the link below! Make sure to take photos of wedding dresses with you or just have an idea of what style you're looking for. This will help immensely in the process of finding the PERFECT dress.