The first thing you're going to say when you see Ainsworth House is "wow." It's stately, it's gorgeous, it's picturesque, and it's just perfect for your event. You're going to say it again when you see the amount of care you will be given. From the beautiful venue and grounds to the services offered, know that you and your guests will be taken care of in style.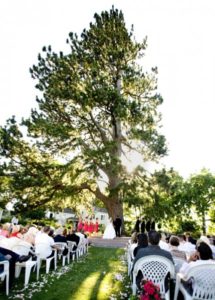 Let's look at the venues. The Ainsworth House itself is available. How can this charming Greek revival style circa 1851 home not be the perfect setting? It has a Bride's Suite (with a separate door), Groom's Lounge, and a sitting room for families. Or, consider the Pine Tree Garden. It's nearly an acre in size and features a 200+-year-old Ponderosa Pine, a gorgeous backdrop for an outdoor wedding. This lone tree has to be a prime reason Ainsworth books so many outdoor events. You can then continue the party on the lawn with musicians or a DJ and photograph your wedding party out on the balcony (swoon!). For a more intimate affair, The Grove might be ideal. Imagine: the bride appears through the tress and makes her way to a wrought-iron gazebo where the wedding party can gather around the couple and hear the vows as they are stated just feet away. 
While there are three outdoor wedding venues on site, you can change your mind and switch from your original choice because they are never double booked. They only celebrate one event at a time, so you have the whole place to yourself. All of their focus will be on you, and only you.
You can take advantage of their inclusive wedding package, where they take care of tables, linens, napkins, chairs, tables, event planning and on-the-day coordinator, set up, cleaning, catering, photography, and DJ. Just the venue itself is enough to book. With all of this amazing extra care it's hard to find a reason not to use Ainsworth if you are in the Portland, Oregon area.
Of course, Ainsworth House and Gardens is meant for more than weddings! Ainsworth House Rooms, like the main parlor, dining room, lounge and rose room are all available, as are the garden room, conference complex, or even the whole complex for those birthdays, baby showers, anniversaries, seasonal parties, and events hosted by non-profits. Ainsworth House even offers space to a few new and/or emerging local non-profit organizations each year to help them "get off the ground" through this hosting opportunity. Now, that's care all over the place!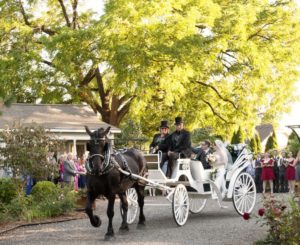 They are one of Portland's foremost full-service wedding and event venues who can offer outdoor as well as indoor facilities and are in "The Knot's" best of weddings Hall of Fame, and have been rated with the "Wedding Wire" for 5 years. They take care of so many details. They can provide your tables, chairs, linens and even event decor. They can provide a horse and carriage, jazz band or a photo booth. They have no in-house service charges, no catering minimums, and no corkage fees. Can it really be this simple to have an elegant affair? If you are planning an event, check out Ainsworth House!
Looking for a unique wedding location that is sure to please? The
Ainsworth House & Gardens
will do just that (and more!). The spectacular southern-style mansion will take your breath away. It's lush green gardens with vibrant flowers are simply irresistible. The splendor doesn't stop there. Inside you will find a lavish display of period decor and grandeur. The whole experience is an unrivaled photo opportunity.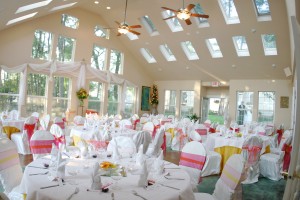 The Ainsworth Gardens are a site to behold with mounds of flowers and romantic, ivy-canopied pathways.  You will get lost in the beauty as you wind through their romantic and tranquil gardens.
One of the most popular areas for a wedding ceremony is under a very large, old pine tree.  From this spot the gorgeous mansion is sure to make it in the background of all your ceremony shots!
For winter weddings, what better place than the Ainsworth Conservatory? With over 30 windows in the ceiling alone, the sun lighting the white room will create a heavenly atmosphere connecting your wedding with the white 'clouds' of snow outdoors.
Your wedding day should be as stress-free as possible. Ainsworth House &  Garden will take care of your wedding planning for you. Let them handle any or all of the following:


Catering: everything from banquet, to buffet, to barbecue


Tables, chairs, linens and tableware in your choice of color


Flowers, including arrangements, bridal bouquets and garlands


D.J., musicians and a minister


Aisle runner, candles and bubbles


Cameras on each table as well as a photographer and videographer


A horse and carriage or limo service


And a tent in case the sunshine begins to melt.


Gather at the Ainsworth House for more than just weddings, it is the perfect spot to hold that corporate board retreat, or the charity gala you've been planning. You can easily the rent whole complex or choose from an array of beautiful spaces to accommodate your specific events needs. If you are looking for the perfect location to
host your next event in Oregon City
, Oregon, look no further than the Ainsworth House and Gardens.
Want more advice on where to find party and wedding vendors? Find vendors and other party and wedding planning tips at www.WeddingAndPartyNetwork.com.