As I sit here and ponder all of the people that I
could
hire to do my Christmas decorations next year, I'm throwing out all options but one. For sure, for positive, most definitely, the florist I would choose if I were near Tampa, Florida is undoubtedly
Apple Blossoms Floral Design
.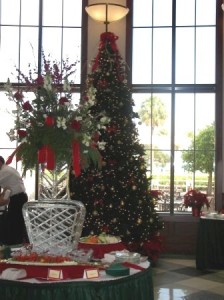 To be honest, it's not just the holiday flowers and decorations that impress people about Apple Blossoms Floral Design. Scott Darhower knows the floral business in and out. Whether it's wrapping lights around 20 foot trees at a college campus or decorating a house with flowers, the man has a gift.
In fact, he and his entire team are courteous, fun, creative, and have a knack for decorating. If you're ever throwing a party or
planning a wedding
in Tampa, stop in this flower shop first.
Apple Blossoms Floral Design is also on Facebook. Through those updates, it's easy to keep up-to-date on the latest "WOW!" inspiring designs by Scott and his team. From weddings to parties and everything in between, Apple Blossoms' creativity opens up a whole new level of amazement. You'll discover decorations you didn't even know a florist could do. For that, Scott and the talented florists at Apple Blossoms Floral Design have earned their high renown in the Tampa area.
Come on. How many people do you know that can put together ALL of the flowers for a series of weddings, decorate multiple homes for the holidays, create flower arrangements for everyday occasions and STILL wake up with a cheery, chipper attitude that is contagious? Even on a bad day (which are rare for Apple Blossoms), the entire team of fabulous florists at this flower shop are always ready to greet you with a smile and a host of ideas for whatever you need.
If you're searching for
Tampa florists
, stop looking. Call Apple Blossoms Floral Design and prepare to be dazzled.
Dont' forget to check out Apple Blossoms Floral Designs on Facebook, the Apple Blossoms Floral Design Myspace page, and their WPN photo gallery of some of Apple Blossom's creative designs.