Imagine walking into your wedding and it being just the way you've always dreamed about. From your breath-taking wedding gown, mouth-watering reception food and your luscious wedding flowers all help create your dream wedding. All of these components should stand out on their own, yet work together to create an even that you've spent years imagining. Flowers are truly an important detail considering that's one of the first things your guests notice when walking into your wedding. Therefore, the must stand out, yet work together with the other elements of your wedding. So, if you're in the
Courtice, Ontario
area,
College Park Flowers
design flowers that will make your guests in awe of your wedding.
Setting The Tone For Your Wedding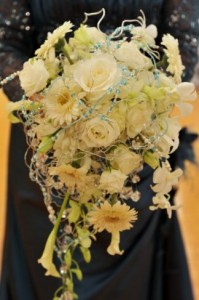 College Park Flowers
is a
premier, full-service florist
with over 30 years of experience. Their highly trained staff is ready to help you in every way possible. They especially want to help play the wedding of your dreams. Whether you are planning a small intimate wedding or the social event of the year, they can design your ideal wedding flowers. With this premier florist designing your
wedding bouquet
to wedding floral arrangements, your special day will be a dream come true.
Imagine your gazebo decked out in white flowers hanging from the top to create a beautiful garden wedding setting. With that, you'll have a matching cascading bridal bouquet and a reception that is absolutely unbelievable. Your flowers will definitely be the show stopper of your wedding, besides you of course. Amazing flowers are a must on your special day.
Not Only Designing Wedding Flowers
Not everyone is planning a wedding, and they understand that. They design flowers for every occasion. If you are planning a charity ball, corporate event or a holiday party, let them design gorgeous reception centerpieces to match the theme and setting of your event. You'll find that they'll treat your event flowers like you're their only client. They truly want everything to be exactly how you imagined.
Even if you are sending flowers, they'll go above and beyond to design the arrangement to match the special recipient. Whether it's for their birthday, graduation or a congratulatory arrangement;
College Park Flowers
will design the arrangement just for you. Their design will represent that special person, which will make them absolutely love and cherish it.
When finding the right florist for you that will go above and beyond in creating your vision,
College Park Flowers
is the one for you. Their attention to detail and always keeping you in mind is key when designing stunning floral arrangements.