If you're hunting for a Carmel Indiana's Love At First Sight Floral and Design, stop looking! Visit
Love At First Sight Floral & Design
. Suzanne Fammartino, the owner and friendliest florist you'll ever meet, specializes in unique arrangements for life's less nuptial occasions. Take a look!
Giving "Customer Service" A Wonderful New Meaning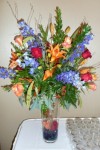 There hasn't been a life untouched by Suzanne after even slight contact with her. She's one of those people that exudes happiness and fair treatment. She wants the best for you because seeing you smile brightens her face as well. It's hard to find a more pleasant, customer service oriented person as the pamphlet of testimonials next to me assures.
Events are huge occasions that mark a milestone in someone's life. Even small occasions have a special significance to someone. Suzanne's special gift is that she can figure out the significance and deliver the perfect flower arrangements as a result.
Here's a tender example in Suzanne's own words:
Several months ago when I was doing my floral buying I saw a beautiful wooden dump truck and something told me that I needed to buy it. At the time I had no idea why. I had a few opportunities to use this truck in children birthday arrangements that were ordered but something told me to hold on to it. I knew why when I received a call from a young lady who told me of a tragic death of a young man in his 40's that worked for her company.

This company had never called me before and there were other floral company's closer that she could have picked to call. I told her I could do anything she would like for the funeral arrangement and I asked her to tell me something about him to try and personalize it. She then said "Well you wouldn't happen to have a dump truck would you?" My heart jumped as I said, "as a matter a fact I do"! Then she told me he had been a dump truck driver for their gravel company for years. The young lady and I were amazed at this moment of connection for this man. As I finished designing a beautiful floral arrangement in the bed of the truck I stepped back and looked at it through his eyes and knew he would be pleased. I felt so blessed to be able to create this arrangement that I knew would touch the hearts of all who attended. I can't tell you how many times I have made similar connections in the years that I have been doing floral design and those connections make me truly love what I do! We all are given gifts…we just need to be sure to share them with others.
A Designer's Eye For Trendy, Sophisticated Arrangements
Another great thing about Suzanne is that she was a fashion designer before she became a floral designer. She has an eye for beauty and a heart as beautiful as any. She's the perfect florist for savvy young men and women who want class, style and trendiness more than a standard out-of-the-cooler arrangement.
Love At First Sight Floral & Design is Carmel Indiana's best place to go for event flowers for a reason. As sure as your foot crosses the doorway, you'll fall in love with the warmth of everyone inside. Their passion is contagious; their energy exhilarating. From the top of my head to the tip of my toes, I recommend Love At First Sight Floral & Design.
For more event planning tips, visit WeddingAndPartyNetwork.com