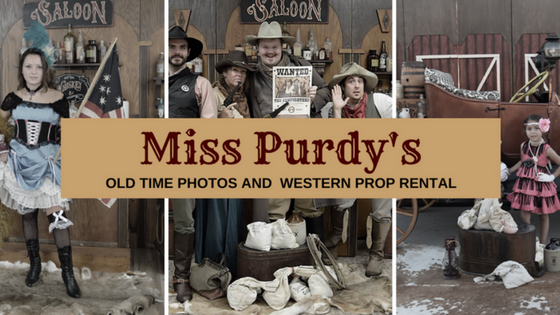 We all like to celebrate birthdays and special occasions differently. Some opt to have a classic celebration, while others prefer something a little more unique. If this is you, Miss Purdy's Old Time Photos & Western Prop Rental offers exactly what you need!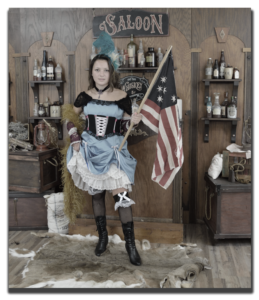 Miss Purdy's fascination for costumes and accessories began the day she traveled to Disneyland with her parents. While there, the family visited a ride called "It's a Small World," which features stunning sets and animatronics dressed in costumes from all over the world. From this point, Miss Purdy was hooked and knew that a profession involving sets and intricately designed costumes was to be her passion.
Years later, Miss Purdy's dream became a reality after opening her very own business which provides theatrical quality sets, costumes, and quality photos. Now, she owns the only complete mobile Old Time and Western photo service in the entire United States! Miss Purdy's Old Time Photos & Western Prop Rental travels to wherever they are needed for any Western or Great Gatsby themed event.
In June 2017, Miss Purdy offered her services to none other than Arnold Schwarzenegger at his home in Brentwood, CA with Sylvester Stallone and
 Tom Arnold in attendance. Other clients, like the television show Project Runway and the Country Music Awards, raved about the incredible looking props and costumes! You can find anything from Western props to "Bootleg Bandits" Gangster Backdrop Costumes and even a rusty dilapidated 1923 Model T Gangster car. Pretty much anything you can think of when it comes to the 20's and 30's era!
During the Great Depression, the only business that thrived was theater. For a moment, people were able to step into the character's shoes and forget all about their troubles. Miss Purdy's goal is to provide a bit of relief from all the stress caused by our daily lives. You are able to dress up in stunning costumes from this wonderful era and capture those unforgettable moments in heirloom quality photos.
So, are you ready to have fun? Contact Miss Purdy for a true one-of-a-kind event!