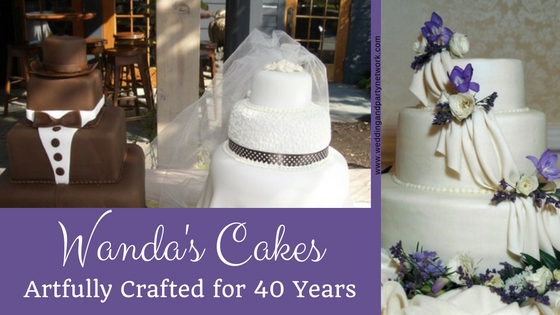 There are many aspects of a wedding that reflect a couple on their wedding day, but one of the most memorable is the cake. A favorite element for the guests, the cake needs to be done well inside and out. From the color to the theme to its tiniest details—the piping on the second tier, or the flowers artfully arranged—the cake needs to stand on its own, fitting in to the theme and matching the mood of the happy day.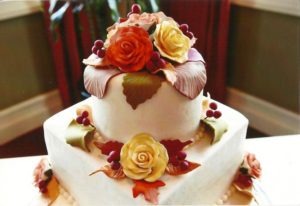 Wanda of Wanda's Cakes can easily produce a cake that you will be proud of, making it as unique and personalized as it can be. She artistically creates each one using award-winning designs, offering a variety of cake flavors and fillings.
Some of her past cakes are breathtaking. She created a lavender cake with a dark lavender base, the colors having an ombre effect with the top layer being white. The tiny flowers on top wind their way up the cake with the reverse effect, with the flowers being white on the bottom and becoming a darker lavender the higher they go on the cake. Another cake looks like a castle, complete with a carriage in the middle and towers at the top. Another looks as though it has seashells cascading it. Some are more traditional in nature, with the bride's flowers artfully and beautifully arranged. Other are not as traditional: one has tiers that look like dice and a slot machine with the words "Married in Las Vegas" at the bottom. Another is comprised of an orange palette and looks lopsided with the happy couple sitting on top feeding each other.
The only thing Wanda's cakes have in common is how well done they are and how unique. We think Wanda enjoys these creations as much as her clients:



"I just wanted to say thank you for a fantastic wedding cake. You totally made my design come alive. Your excitement and enthusiasm for my day was most appreciated. I loved how you were so excited to do my cake. I really appreciated it. Everyone complimented the cake, not only on its outward appearance, but for its taste. The buttercream and the red velvet were just so yummy, moist and delicious!" —Rachel C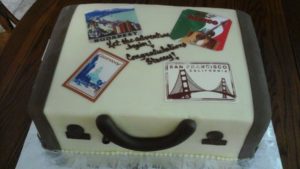 Though Wanda specializes is weddings (don't forget the grooms cake!) she is able to create something special, too, for corporate functions, birthdays, anniversaries, team parties, holidays, pets, graduations, or any other event that you would like to be memorable. She can put a photograph, corporate logo or drawing on your cake. Wanda has also added offering fruitcakes at Christmas. All of the work she does is custom.
Wanda has found success in Northern Virginia where she is self-employed. She began decorating about four decades ago when she was actually an elementary teacher and a fellow teacher brought in a cake that she had made. She took the class because she wanted to know how to decorate cakes for her son's birthday, whom she was pregnant with at the time. Taking one of her classes propelled Wanda and she went from simply learning the craft from a friend, to sending cakes to her husband's office where they started to place orders. Mostly by word of mouth, she had established a small business, one that worked well for her when she quit teaching to be with her children. She believes her good products and reasonable prices have kept her in business all these years, and she loves the success she finds in thrilling her clients.
For custom cakes and top-notch customer service, see Wanda at Wanda's Cakes!