About
Wedding And Party Network

A wise woman once told us… "Life is an event...Plan it!" From baby showers and birthdays to weddings, life's special moments are often remembered by the events surrounding them. But planning the perfect wedding or party isn't always easy. That's why we started Wedding and Party Network.
---
Our goal is to create a community for brides and party planners to help them find their wedding and party vendors. Don't stress over the important stuff! Wedding and Party Network gives you access to vendors for everything from photography to venues, rentals to dresses, cakes to flowers and everything in between! Search for incredible vendors in your hometown or across the country.

Our blog is a great resource for brides and planners alike. Find the latest tips and trends, and let us answer your most pressing questions like: "Who pays for the bridesmaids' dresses?" or "Who plans the baby shower?"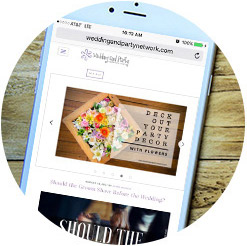 Inspirational Galleries
Browse our expansive photo galleries for wedding and party ideas.
For our vendors, we amp up your online presence through our marketplace, ads, and custom built websites, while sending potential customers to you. Through your storefront you can list your specialties, create promotions, and even showcase your work with a photo gallery! Your WPN storefront links directly to your website as well as your social media pages so your customers can easily find you. Wedding and Party's promise to our members - we will never get involved with your customers. You keep 100% of your business.