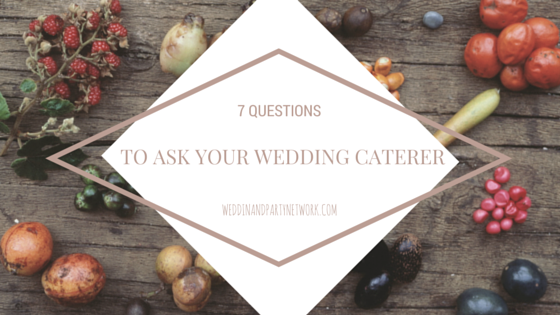 Your wedding day is upon you and you have so much planning to do. There's a lot of things to keep in mind when planning a wedding and it is easy to forget something. When it comes to who is going to provide the food for the reception, you need to remember that it is about more than just food.  Therefore we have compiled a list of 7 questions you should ask your wedding caterer.
Do you have a sample menu I could look at?
This will tell you what type of style and variation of food they have and give you a clue to how adaptable they are to your alterations and wishes.
Is it possible to do a tasting?
This could be a deciding factor when it comes to a cater because you want it make sure that you are getting tasty food. It might be good to do a tasting even if you have heard of them from a referral because everyone's taste is different. If they do tastings, ask if there is a fee and add that to your budget.
Do you have options for different types of dietary restrictions? Such as vegetarian, kosher, and/or different allergies.
This depends on if your guests have any dietary restrictions but it is still good to know if the caterer has a variety of dietary options and are able to adjust to any changes.
Will you provide chairs, tables and/or linens? If so do you have multiple options?
It's always good to ask if your caterer provides tables and chairs or if you have to find them yourself. Often times, that is a separate service, but it is also important to ask if they provide the smaller things like linens, napkins, etc. While you're asking about tables, also ask if they provide extra tables for gifts or candy bars as well.
How many servers do you use per guest?
This is important to know for various reasons. The servers to guest ratio will affect how smooth and fast the reception will be and hopefully avoid complaints from guests. This also adds to your complete total, so it is important to also know the cost per server per hour.
Does wine come with the menu? Is there an extra fee for the wine?
Some caterers include wine in their service but some don't. If wine is included what options do they have and could you make any special selections. If wine is not included don't hesitate to ask what wine they suggest will go complement the food and where is a good place to get that particular wine.
Are your evening prices more than your daytime prices?
The answer to this question might decide the time of the day that you will hold your wedding, especially if there is a significant different between prices.
We hope that these questions can prepare you more for your wedding day and make the planning a bit easier. Check back with Wedding and Party Network for more great ideas and tips!