Before you even start planning your wedding, you must know your wedding style. How will you ever know what you want if you have no idea what style you are going for. It's important that you sit down and think about what you really want for your wedding. Otherwise, you might end up with a jumbled up mess. Wedding and Party Network has a few tips on getting to know your wedding style.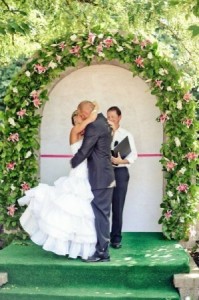 Choosing your date – The very first thing you need to do is choose your wedding date. However, you need to know your style before you even choose a date. Why? Weather, seasonal flowers, seasonal food and even colors all play a factor in which season you choose. You may choose a fall date, however, the flowers you would like aren't in season and really wouldn't go with a fall wedding.
Choosing a wedding venue – Why should you choose your wedding style before you choose your wedding venue? Your wedding shouldn't be defined by your wedding venue, it should be the other way around. If you want a formal wedding, you can't really achieve that with a rustic barn. It goes the other way around as well. You definitely can't have a rustic, vintage styled wedding in a beautiful ballroom. Picking your style is an important must before you plan anything.
Buying a wedding dress – Your wedding dress reflects your own personal style, but it also captures your wedding day style as well. Lace sleeves maybe more appropriate in the fall or having a shorter wedding gown would be more ideal for spring and summer weddings. The same goes with bridesmaids dresses.
Wedding decor – Decor defines your whole wedding. This includes your wedding flowers, vases, the colors you use, garland, and wedding linens. It all captures your wedding style. Finding out your wedding style before you buy decorations, otherwise, you'll wind up with items that don't really go together.
Even your favors are influenced – Some brides know their exact wedding style, decor, and what they would like to give as wedding favors. Your wedding favors are even determined by your wedding style. If you are having a casual, laid back wedding, a koozie may be fun. Your favors are sent home with guests, so let that be a remembrance for your guests. They'll love seeing their wedding favor and looking back on your wedding.
This post is brought to you by Houston Wedding Coordinators
Not in Houston, TX? No worries, use Wedding and Party Network's handy wedding planning directory to help you find a wedding coordinator near you!