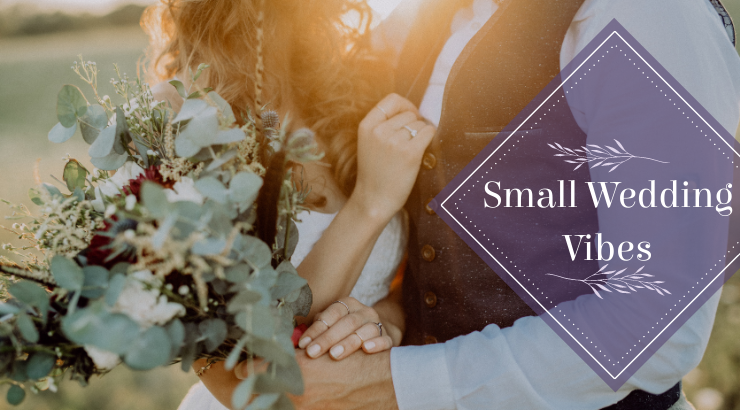 2020 has been a genuine whirlwind for weddings. Many couples have had to postpone their weddings or cut down their guest list, which has wreaked havoc on many couple's dreams for their big day. Small weddings have become a new normal. However, just because your wedding may be a bit smaller than initially planned doesn't necessarily mean that this is bad. With smaller weddings, many opportunities arise. Between saving money and indulging in a more intimate wedding day, many beautiful things can come with small wedding vibes!
---
Extra special ceremony
Wedding ceremonies can often be one of the most emotional and intimate parts of a wedding. However, when you have a more extensive guest list, it can sometimes be easy to get wrapped up in making it as short and sweet as possible. Small weddings can often allow for more intimate ceremonies with your closest friends and family. Fill your ceremony with meaning and practice traditions, rituals, or share personal vows to make this experience one that will never be forgotten.
Personal details
Smaller, more intimate weddings can often allow the couple to follow their vision more closely. Though you should always consider food allergies and your guests' comfort, there are simply fewer people to please when you hold a smaller wedding. Take advantage of this shorter guest list and play the music you want to hear, personalize your menu just how you want, and serve the cocktails you want to drink. Smaller weddings often allow for personalities to shine through and will enable you to reflect you and your partner's relationship more closely.
Locations
Along with being able to personalize your big day due to having fewer guests, you also have more options to choose from for your wedding location. Airbnb weddings, adventure elopements, and other fun, exotic locations are always possible with small weddings. Maybe there is a place that you and your partner have always wanted to explore. Small weddings allow you to break out your bucket list and choose a non-typical location.
Saving money
One final perk of having a smaller wedding is the ability to save a ton of money! With fewer guests comes a smaller expense. You can save money on catering, venue cost, flowers, and so much more. Saving money through fewer guests can allow you to splurge a little more on the things that matter most to you or put that money towards your honeymoon budget!
Small weddings can be a blessing in disguise. Though your big day may not look exactly as planned, there are so many opportunities to make it just as special, if not more so, enjoy your big day and make it how you want it! And if you're still dead set on having a large celebration, having a delayed reception party is never a bad idea!
Find a Venue!