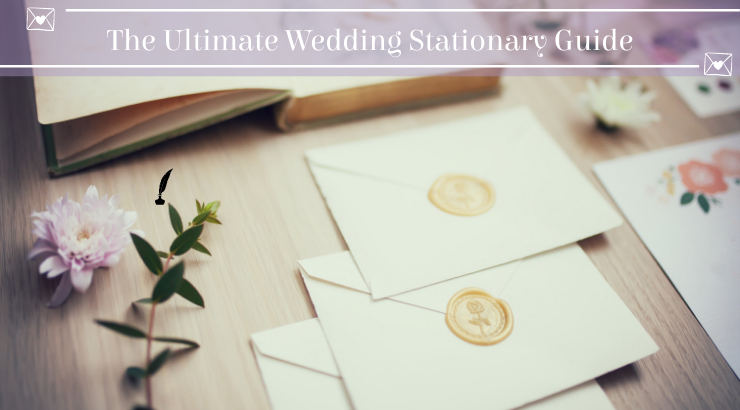 Planning your wedding can be stressful. Among all the choices a bride is faced with, stationery is one of the many things a bride must decide upon when planning for her big day. With hundreds of options between invitations, programs, menus, and more, these simple paper products can often cause a world of stress. Before going and spending a fortune on every pretty card you see, stop, and consider what is really needed to make your big day function as needed. Though every wedding is different, we've compiled a list of a few stationary products that will help your big day function with ease.
Save the Date Cards
You've picked your date and venue, now its time to send out save the date cards. These typically have very minimal information on them, including the names of the bride and groom, the city the wedding will take place in, and the date of the wedding. Save the date cards have grown in popularity over the last few years. According to Arkansas Bride, 63% of brides sent out save the date cards prior to invitations. These are a good way to inform your guests that invitations are coming and that they should prepare to have the date saved in their calendar. If you are planning on creating a wedding website for you and your fiance, save the date cards are a great place to help direct guests to more information on your wedding, RSVPs, and registry information. Save the date cards are typically sent out in A7 envelopes or could also be sent as postcards no larger than 4.25×5.5".
Invitations
After a few months have passed and you have planned more of your wedding, its time to send out invitations. These formalities are often the most important thing to send out before your wedding day. They let the guests know formally when, where, and what time the wedding and reception will take place. These invitations also include the names of the bride and groom as well as their parent's names. Invitations being the most formal of your wedding stationery are often printed on a heavy stock, engraved with a charcoal ink, and included with a tissue paper to ensure that the card is protected. Differing from save the date cards, these are often sent 3-4 months before the wedding.
Reply cards
Reply cards are sent along with the wedding invitations including a self-addressed and stamped envelope. This formality allows guests to respond with ease. Even if you plan on having an RSVP on your website you should always send these as well so that your guests are able to RSVP if they are unable to access your website. Reply cards should include a place for the guest to write their name, how many are in their party and a date for when they need to RSVP by.
Wedding programs
The big day has come and wedding programs often make for beautiful additions to any ceremony. Not only do these programs help inform guests of what to expect from the ceremony, they also give recognition to everyone within the wedding party that helped along the way. They may also help explain any family traditions that may be unfamiliar to the attending guests. Wedding programs often vary in size but may also be seen as a booklet if there is a lot of information to include on them.
Menu Cards
Menu cards are often a very important addition to the reception for the guest's leisure. No one likes to sit down and not know what they are about to eat, this formality makes sure that everyone knows what to expect. Whether you're doing a formal dinner or buffet style, menus are a great way to keep your guests happy. If you plan to have a bar at your wedding as well, including drink menu cards near the bar with a few drink options is never a bad idea. Though you may be able to get by with a sign for your drink menu, stationary drink cards are easily passed around among guests and help communicate the available drink options.
Thank You cards
Thank you cards tend to be handwritten notes sent from you and your newlywed partner. These are sent to show your gratitude for both your guest's attendance as well as any gifts they may have given you both. Thank you cards are one of the most important things that you can send your guests after the wedding and should be sent no later than a month after your celebration.
These are just a few examples of the different types of stationery that you can use to make your wedding day functional. Stationery is a great way to keep things flowing smoothly and to keep your guests, as well as the wedding party, informed about all the things going on leading up to the big day. Check out some of our favorite stationery vendors that may be able to help you find all your stationery needs for your big day.
Looking for wedding stationery?