Flowers are such great accessories to everything. Whether you are planning a wedding, hosting an event or sending them for someone's home, they add such an elegant flair. However, when finding a florist, you want them to find the right one. Someone who is skilled with creative ideas that will create one-of-a-kind floral designs. Well, receive that and much more with
Brunswick Town Florist.
They do it all for the
Southport, North Carolina area
. Creating beautiful wedding flowers, event flowers and floral arrangements just for you.
Planning A Wedding?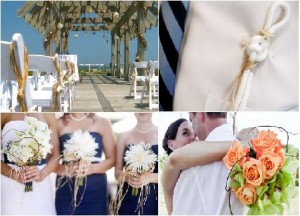 Are you in the process of planning a wedding? Do you want your flowers absolutely picturesque? Well let
Brunswick Town Florist
create what you've always imagined. You are the only bride to them. They understand how this is the most important event if your life and should be nothing short of magnificent. That is why you are their most important bride.
It doesn't matter what type of style you'd like for your wedding, they want to achieve your dream look. Conservative, less traditional to exotic, they will do it all.
Beautiful beach weddings
to a traditional church wedding ceremony, they will create a look just for you. Always designing with you in mind.
What have you imagined for your
personal wedding flowers
? A pink rose wedding bouquet or a beautiful cascading bridal bouquet? Whatever bouquet you've always dreamed about,
Brunswick Town Florist
will make sure they meet that look. Are you planning a beach wedding? Well then just imagine your beach wedding ceremony having beautiful accents, such as beautiful hanging sea shells, unique rope boutonniere and an elegant ivory bouquet tied with raffia.
Your wedding reception will have that same personal touch. Featuring gorgeous centerpieces and cake flowers will look perfectly paired with the wedding ceremony decorations. This florist wants to make all your floral dreams come true.
Special Occasions & Events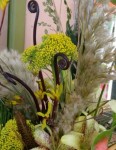 Of course, they not only want to meet your wedding dreams but also all other floral creations you've imagined. Are you planning a special event? Let them set the tone of your occasion with beautiful
reception centerpieces
. Again, you envision what you want and they'll create it.
Brunswick Town Florist
always wants to create what you've imagined. A florist who truly treats you as if you're their only client is a rare find, however, they do.
Lets not forget about their wonderful floral creations either. Whether you are sending flowers for a birthday, special occasion, Valentine's Day, anniversary or just because; they will create it. Right down to the flowers you want, color scheme and ribbon, they'll  make sure it's what you've chosen. However, if you haven't a clue on what to send, they will let their creative minds go to work.
Visiting
Brunswick Town Florist
is an absolute must for all your floral needs. Their friendly customer service, knowledge and creative minds will leave you with one-of-a-kind flowers. Wedding flowers, event flowers and floral arrangements will be exquisite down to the smallest details. So choose this florist and have all your dreams come true.