Are you wanting to take your event from great to absolutely amazing? Anyone can throw a party, so you need to do something different to make it stand out. Well let
Festive Ice Sculptures & The Chocolate Fountain Co.
help you out. They offer the most
amazing ice sculptures
for any event and on top of that, they even offer fun chocolate fountains. Whatever your event, whether it be a wedding, birthday party or corporate event; they will make a lasting impression on your guests.
Add Sparkle To Your Next Event
Ice sculptures have always been known to offer a fun presentation to your food, but use them for just more than that.
Festive Ice Sculptures
is providing you with just that, the "wow" factor for your event. Skilled craftsmanship with great attention to detail is exactly what they offer through their hand carved ice sculptures.
Exquisitely detailed ice sculptures for any event will have it looking fabulous. Your wedding, special event, birthday or corporate event will be absolutely amazing with one of their beautiful ice sculptures. If you've imagined it, they can create your ideal wedding ice sculpture.
Imagine your
wedding reception location
being taken to the next level with a unique ice bar. All your drinks will stay refreshingly cold all night long. How about a wedding cake ice sculpture, your initial or even have your wedding flowers frozen into ice? There's so many things that they can do with ice to make your wedding an absolute flawless event.
A corporate event will look amazing with their logo carved out of ice or even an anniversary party featuring an ice sculpture with the happy married couple will just add something special to the event. Whether you need centerpieces for your guests, head table or party food table; they can create it for any event. A beautifully crafted ice sculpture will just add so much more to your wedding, party or special event's atmosphere.
A Festive Treat For All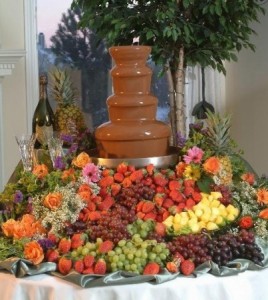 On top of their beautiful ice sculptures, they also offer
chocolate fountains
to make your event that much more unique.
The Chocolate Fountain Co.
various sizes and different shaped chocolate fountains to be absolutely suitable for your event.
Whether you are looking for milk chocolate, dark or white chocolate; they offer a variety of chocolate for all taste buds to enjoy. If you are looking for tasty fruit and dipping items for your chocolate fountain; they will offer it. A great conversation piece to get your guests talking about your unforgettable event.
Festive Ice Sculptures & The Chocolate Fountain Co.
always has you on their mind. They understand that everyone is different, therefore, they offer you unique and personalized attention. Truly wanting to create a unique event from all the rest.
If you are in Watford, Ontario Canada or the surrounding area, you most definitely need to let them provide you with
amazing party decorations
. Let your event be truly unforgettable with one of their amazing ice sculptures and tasty chocolate fountain.