The name says it all
Flowers and More!
Being an
exquisite floral shop
is not the only thing they are known for, but providing gorgeous decorations, unique gifts, party planning, party supplies and outstanding customer service tops the list too.  If you need it, they can arrange it, create it, or provide it! Creating a flawless finish for your event is a snap for this hard-working, passionate
Granbury florist
.
Weddings By Flowers and More
Have you spent the past few months eyeing those stunning floral arrangements in wedding magazines? Can't imagine having those beautiful floral creations at your wedding? Well if you live close to
Granbury Texas
, look no further than
Flowers and More.
They will make your special event the talk of the town with their flawless decorations and amazing services.
Their gifted expertise gives them the ability to provide a variety of wedding accessories such as:


Wedding Bouquets


Floral Arrangements


Chair Covers


Wedding Hair Flowers


Wrist Corsages


Outdoor Wedding Decorations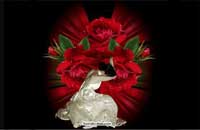 Flowers and More
can set the exact mood you are looking for through their decorating expertise.
If you want your wedding reception to have that fun, carefree mood, then let them play it up with bright colorful floral centerpieces and bouquets. Your guests will follow along participating in a lively wedding reception, no one will forget.
Event Decorations By Flowers and More
Weddings aren't the only place they showcase their talents.
Flowers and More
can help you get the party started. For example, having a casual dinner party? Well let them create a relaxing and peaceful mood with simple white floral arrangements. Dinner guests will feel as if they are in a five-star restaurant. Whatever your event may be, they will help you create the perfect setting.
Gifts By Flowers and More
So you've chosen those fabulous decorations, might as well register for some exquisite gifts too.  Two things being checked off that long list in one stop is always a plus!  Their elegant gifts will impress you so much that you'll become a regular. Whether its for those cutesy baby gifts, birthday gifts, or just wanting to indulge yourself,
Flowers and More
will never disappoint.
Making your event flawless and stunning is their goal. From helping plan to making the most memorable decorations to the perfect gifts,
Flowers and More
will be there for you.  This Granbury, Texas floral shop is dependable, loyal and simply amazing.  With them on your side, your next special event will be one you won't forget.