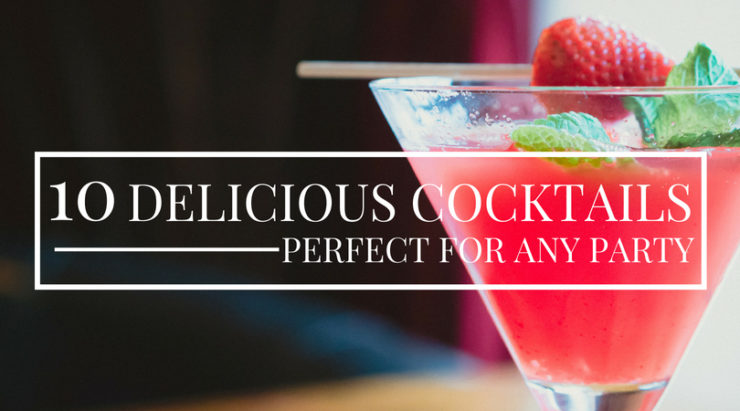 Planning a party is fun, whether it be a sip 'n paint  party or a summer party with your friends, but don't forget to choose what kind of refreshments to serve or bring! If you're not sure on what drinks to prepare for your guests, go with one of our favorites! We made a list of the ten most popular cocktails for you to choose from…You can never go wrong with a classic!
 1. Long Island Iced Tea
Kick back with a classic Long Island Iced Tea!

Ingredients:
1/2 oz. of Vodka
Rum
Gin
Triple Sec
Tequila
2 oz. Sweet and Sour Mix
A splash of Cola
You can also add a lemon or lime as a garnish! This drink will be simple and will keep the night flowing.
2. Margarita
A margarita will never disappoint!

Ingredients:
2 oz. of Tequila
1 oz. Triple Sec
1 oz. Lime Juice
Sweet and Sour Mix
Coarse Salt (for the rim)
Shake the ingredients in a shaker and then pour into the cocktail glasses!
Pro Tip: Chill the cocktail glasses in the freezer, spread the lime juice on the rim and cover with salt.
This will have everyone feeling salty (but in a good way!)
3. Bloody Mary
A margarita will never disappoint!

Ingredients:
2 oz. of Vodka
5 oz. Tomato Juice
1/2 oz. Fresh Lemon Juice
1/2 oz. Worcestershire
Pinch of Pepper
Pinch of Celery Salt
Add all the ingredients in a glass and garnish with olives, celery, and a lemon! There are so many recipes to choose from when it comes to the Bloody Mary because these drinks are so desireable!

4. Screwdriver
The Screwdriver is an easy, quick, and delicious treat!
Ingredients:
2 oz. Vodka
Orange Juice (As much or as little as you like!)
This will take not time at all! You can make it fancy by adding an orange wedge to a highball glass. The screwdriver is the perfect drink for a night together with your best friends!
5. Pi

ñ

a Colada

We might not be exactly sure where the drink comes from, but we do know it's good!
Ingredients:
2 oz. White Rum
Coconut Cream
Pineapple Juice
Combine all the ingredients into a blender and blend until smooth. Pour the drinks into glasses and garnish the rim with pineapple slices. Make this drink for a sweet, sunny sip into the summer!
6. Negroni
An easy and tasty three-ingredient cocktail you have to try!
Ingredients
1 oz. Gin
Campari
Sweet Vermouth
Just stir the ingredient with ice, and you're all set! This drink will be timeless and will give you plenty of time to socialize with you all your besties!
7. Old Fashioned

It may be named an Old Fashioned, but this cocktail will never go out of style!
Ingredients:
2 oz. Bourbon Whiskey
2 Dashes of Angostura Bitters
1 Sugar Cube
Top it off by garnishing the drink with an orange! This drink will have everyone feeling like a true artist!
8. Whiskey Sour
Make a classic whiskey sour for all your guests!
Ingredients:
2 oz. Whiskey
4 oz. Sweet and Sour Mix
Combine all ingredients in a shaker and then just add ice! This drink is perfect to start any party!
9. Martini

Prepare one of the most classic cocktails round!
Ingredients:
2 oz. Gin or Vodka
Splash of Vermouth
Fill your shaker halfway with ice and stir and shake the ingredients. Garnish with an olive or lemon! This delicious drink will be a true party pleaser!
10. Mojito
Serve one of the most popular and tasty cocktails at your next party!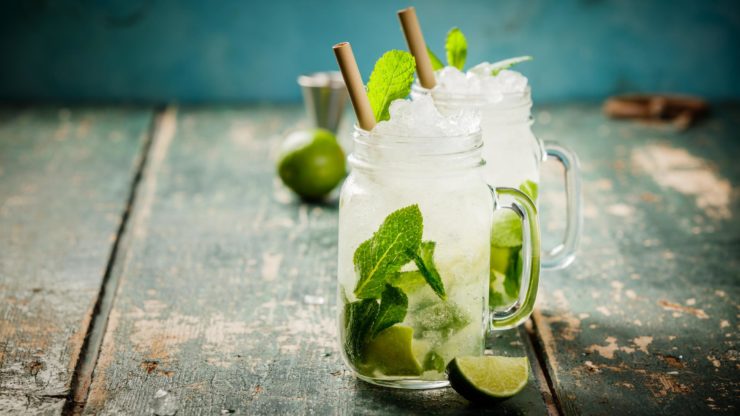 Ingredients:
Fresh Mint Leaves
1 tsp. Sugar Syrup
2 oz. White Rum
4 tsp. Lime Juice
Soda
Water
Mix together mint leaves and sugar syrup in a glass. Combine the rum and lime juice in the glass and then fill the glass with crushed ice. Stir and add soda water and then garnish with a sprig of mint. Enjoy this easy-to-make drink that will cool you down, and all your guests are sure to enjoy!
No matter how fancy or traditional your drink menu is, your guests are going to have a great time! Choose a cocktail (or two) that you feel everyone will love. Go with one of these drinks to have a sip 'n paint no one will forget!
Ready to party?