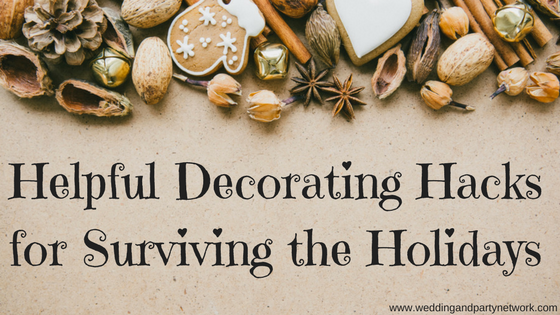 This holiday season, don't get bogged down with stress on how to make the perfect displays in your home. With these simple decorating tips,  you will have more time to spend with the family doing things that matter the most!
Stick with minimalism
The easiest way to decorate in a stress-free manner is to keep decorations at a minimum. But that doesn't mean the hose can't look festive. Instead of a large, full Christmas tree, make a tree on the wall with lights, ribbon, or garland and pile presents up underneath. Or if a real tree is non-negotiable, spend less time handing ornaments by only sprucing up the front and sides- nobody will see the back of the tree if it is placed against a wall!
To bring more holiday cheer into the home, hang up curtains of soft white string lights along the walls. This not only has a soothing effect but can create a winter wonderland feel without the hassle of an overload of holiday decor.
Pull double duty
When decor items can do two things at once, everybody wins. Tired of stacking Christmas cards in a box with no way to show them off? String some garland around a door frame and use clothespins to artfully clip the cards to the garland. It's a great conversation started and you save space, keeping the cards from loved ones from piling up!
If you are the type to save wrapping paper, ribbons, and bows, bust it all out and make a wreath for the front door or wall. This can save a ton of money and creates a unique item that only you will own! And if you don't want to bring it out for the next holiday, reuse the paper and bows when it's time to wrap gifts.
Let the food do the talking
When it is time for Christmas dinner or a holiday party, forget about buying centerpieces that you can only use once a year. Instead, use the food for your event. Make a tree out of cookies, a forest of candy canes, or sausage ball "ornaments" to bring life to the table. Guests are sure to remember this creative spread more so than little Santa figurines!